Here's a dish we're serving up all summer long! The compound butter does all the work and this oven-baked sheet pan shrimp is ready in minutes, packed with flavor! Make it with Lemon Chive or your favorite flavor if Banner Butter! 
INGREDIENTS
1 lb shrimp, shells on

Lemon Chive Banner Butter, room temperature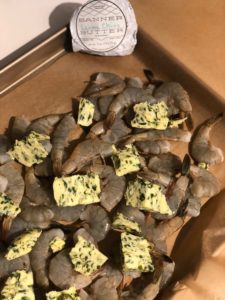 DIRECTIONS
Preheat oven to 400 degrees

Line a baking sheet with parchment paper

Rinse and drain shrimp and spread them out on the baking sheet. Leaving the shells on will give much more flavor. If using peeled shrimp, reduce the cook time by a few minutes. 

Generously dot with Lemon Chive Butter, or your favorite flavor of butter! 

Wrap the parchment around the shrimp and bake for 12-15 minutes. You're looking for the shrimp to turn pink and form a large C shape. Grey is under cooked and a tight C, almost a circle, is overdone. 
Serving suggestions: roasted asparagus and our easy peasy pasta