Memorial Day Weekend is almost here, which means it's time to do some grilling! Brandyn from @blackdog_bbq cooked up these Chorizo Burgers and used our Smoked Sea Salt Butter to make a creamy beer cheese sauce to go on top. You could try this recipe with any type of burger, or just whip up some beer cheese dip to serve with soft pretzel bites, smeared on bread, your favorite crackers, or even veggies like broccoli and cauliflower.
You can find us at Mid-Atlantic and Southeast at Whole Foods or check the map below to find a retailer near you!
Recipe Title: Chorizo Smash Burgers with Beer Cheese Sauce
Total Prep Time: 20 minutes | Total Cook Time: 30 minutes
Servings: 2 serving
Level of Difficulty: 3 (Levels 1-5, with 5 being the most difficult)
Recipe by Brandyn Baker @blackdog_bbq
Ingredients:
1 lbs. ground chorizo
4 hamburger buns
6 bacon slices
½ package smoked sea salt Banner Butter
1 sweet onion, diced
4 T all-purpose flour
1 (12 oz.) beer
1 ½ C heavy cream
1 T minced garlic
12 oz. Shredded Cheese (I used Mexican cheese but can be subbed with desired cheese)
Salt & pepper to taste
For the Bacon:
Preheat an oven to 375 degrees. Meanwhile, place a wire rack on a baking sheet pan. Layer 6 pieces of bacon across the wire rack, making sure to leave space in between each piece. Once the oven is preheated, place add the bacon into the oven until crisp, about 25 minutes.
Place 4 of the finished bacon strips on a plate until ready to use (note: I break the bacon in half to fit on the burgers better). Take the other 2 strips of bacon and crumble them into a small bowl and set them aside. This will be used to top the burger.
For the Beer Cheese:
Melt the butter in a skillet over medium-high heat. Next, add the onions and flour, stirring constantly until the onions are tender and the roux has turned a peanut butter color.
Pour in the beer and allow the mixture to simmer until the liquid has slightly reduced 3-5 minutes.
Add the garlic and heavy cream, mixing as needed. Once the mixture has homogenized, add the cheese in batches, stirring until melted. Repeat this step until all the cheese has been used.
Finish with salt and pepper to taste and set aside until ready to use.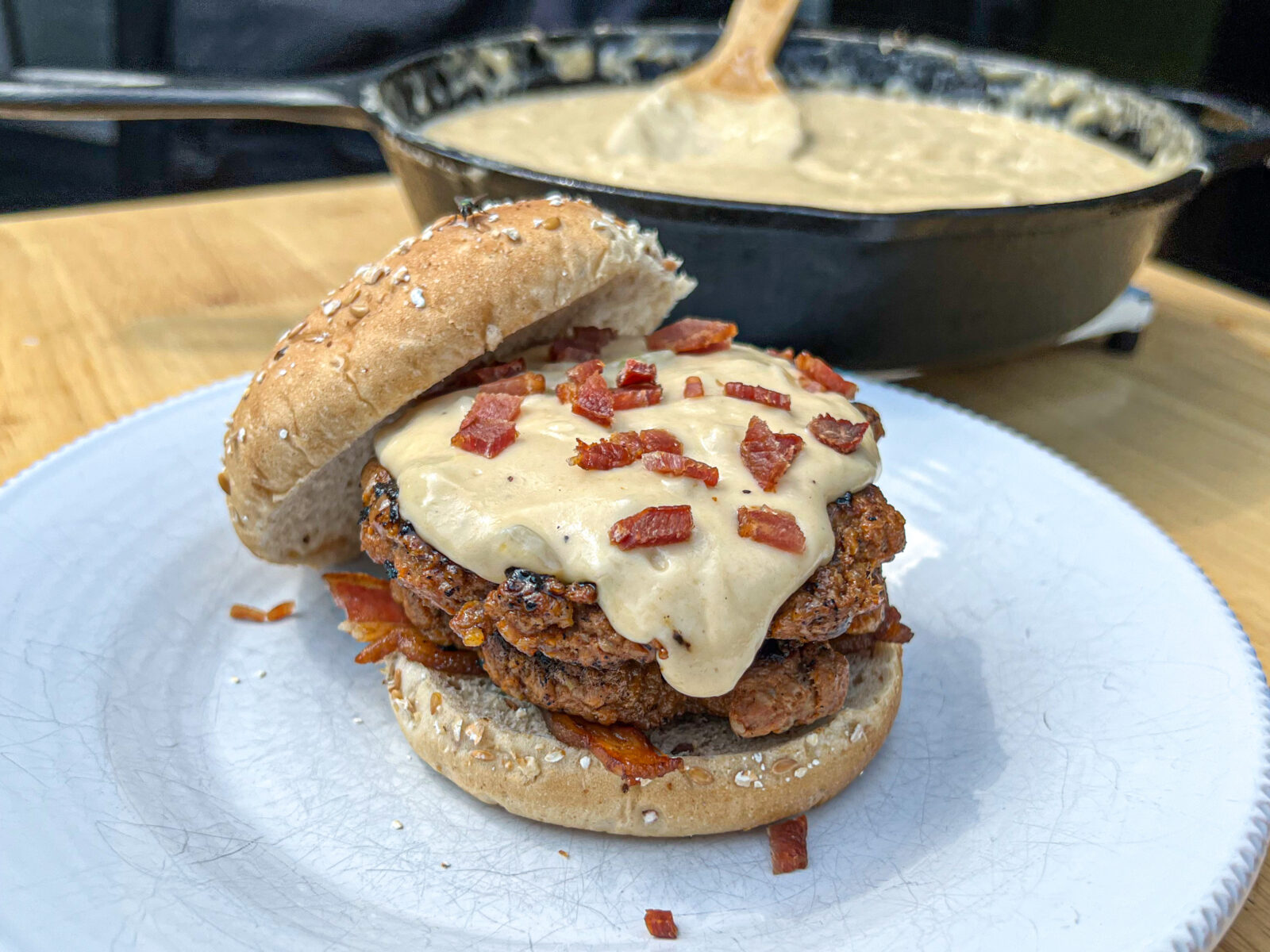 For the Chorizo Burgers:
Preheat the griddle to its highest heat setting.
Take the chorizo out of the packaging and add it to a bowl. Knead the meat into 4 equal-sized meatballs (~4 oz. each) and set aside.
Once the griddle has preheated, place the chorizo meatballs on the grill. Using a spatula, press down on one of the meatballs to flatten (tip: place parchment paper on top of the meatball to prevent it from sticking to the spatula). Repeat this process with the 3 remaining chorizo meatballs. Allow them to cook for about 5 minutes a side until thoroughly browned and cooked through (minimum 155 degrees internal temperature if using a thermometer). Once finished, set the chorizo burgers on a plate and turn off the heat source.
To Finish:
Place a hamburger bun on a plate and top with 2 slices of bacon and 2 chorizo smash burgers. After that, top the burger with a ladle of the beer cheese and sprinkle with bacon bits to finish.
Serve with your sides of choice and enjoy!