Miso Butter
Miso is a great way to add extra umami flavor to any dish. Umami is the savory taste often associated with deep roasted meats. Miso achieves that flavor from fermenting soybeans or grains and has been a staple of Japanese culture for over a millennium. Here at Banner Butter, we get our distinct flavor in part from our slow-culturing process, the roots of which extend back even further. This combination of two ancient superfoods is perfect for adding extra depth to a plethora of your at-home cooking, whether you are looking to add some layers to a vegetable dish or increase the flavor of your favorite meats. 
Umami is one of the 5 basic tastes together with saltiness, sweetness, sourness, and bitterness. When making your miso butter we encourage you to experiment and decide what level of umami is right for you.
INGREDIENTS
METHOD
Cut a 5oz round of Unsalted butter in half and set one half aside. Incorporate 4 Tablespoons of miso, using a spoon or small food processor. If the flavor is too much for you, add a little more butter. If you crave more of that rich flavor, add more of the miso. Once you get comfortable with your ideal proportions, take note for your next batch! You can also experiment with adding miso to other compounds, like our Roasted Garlic, Basil & Parsley. Store in the refrigerator. 
Now, let's cook!
Miso Chicken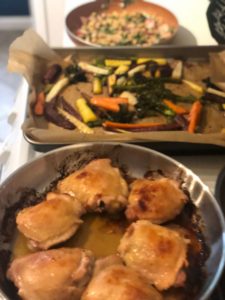 Once we made miso butter, we wanted to use it in every dish! Enter, Miso Chicken! The cultured butter and fermented miso provide immense flavor, perfect for elevating a simple roasted chicken dish. It would also be delicious on roasted potatoes, green vegetables, and seafood! Mix up your Miso Butter and let's get cooking! 
adapted from the New York Times
INGREDIENTS
4 tablespoons

Unsalted Banner Butter

, softened 

½ cup white miso

2 tablespoons honey

1 tablespoon rice vinegar (do not use seasoned rice vinegar)

Black pepper, to taste

8 skin-on, bone-in chicken thighs, approximately 2 1/2 to 3 pounds
PREPARATION
Heat oven to 425 degrees. In a large mixing bowl, combine butter, miso, honey, rice vinegar and black pepper and mix until the ingredients are well combined.

Add chicken to the bowl and coat with the miso-butter mixture. Place the chicken (skin side up to start) in a single layer in a roasting pan and slide it into the oven. Roast for 30 to 40 minutes, turning the chicken pieces over once or twice until the skin is golden brown and crisp, and the internal temperature of the meat is 160 to 165 degrees. Serve with these white beans.  
Garlicky White Beans & Radishes with Miso, and Greens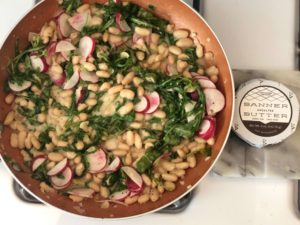 This flavorful beans and greens dish comes together in about 10 minutes, for a simple salad that can be enjoyed as an entree or served as a side. Garlicky sauteed beans , wilted greens, and crunchy radishes offer complementary textures, and miso butter provides umami flavor. A squeeze of lemon brings the brightness, perfect for Summer. Enjoy it warm, cold, or even at room temperature for outdoor entertaining. 
adapted from the New York Times
INGREDIENTS
2 tablespoons white miso

4 tablespoons

Unsalted Banner Butter

or

Roasted Garlic Basil & Parsley Banner Butter

2 garlic cloves, finely chopped

2 (15-ounce) cans white beans of your choice, rinsed and drained

3 cups baby greens (pea shoots, arugula or other)

3 to 4 small radishes, thinly sliced

Fresh lemon wedges, for garnish

Black pepper
PREPARATION
In a small bowl, dissolve the miso into 1/4 cup water using a whisk. Set aside.

In a large skillet, melt the butter over medium heat until it begins to foam. Be careful not to burn the butter. Add the garlic and cook, stirring often, about 30 seconds.

Add the beans and stir to coat with the garlic butter. Add the miso mixture, stirring occasionally, until the beans are warmed through, about 2 minutes. The beans should be in a bit of sauce, so add a tablespoon or two of water to thin it out if needed.

Remove from the heat and gently stir in the greens and radishes until just wilted. Squeeze lemon over the top, season with pepper. and gently toss one last time.

Enjoy this salad by itself or serve it as a side with the Miso Chicken.