These fragrant spiced nuts are a tasty standalone snack and they make memorable gifts, too! Toss them on a salad, add them to a charcuterie spread, or just set them out and watch them disappear. Whip up a batch for a gluten free, low-carb treat! Serve them with low-carb crackers for a delicious gluten-free, keto-friendly snack! 
Adapted from A Farmgirl's Dabbles by Susan Smith
Yield: 15 servings
INGREDIENTS
3 c. mixed whole nuts -try 1 c. cashews, 1 c. pecans, and 1 c. almonds 

2T or 1 oz. Red Pepper Mash Banner Butter (⅕ of a round) 

2 T. coarsely chopped fresh rosemary leaves

1 tsp. fresh thyme leaves

1 tsp. cumin

1 T. sugar (sub for 1-1/2 T erythritol for sugar free)

1 tsp. kosher salt

1/2 tsp. freshly ground black pepper

cayenne pepper to taste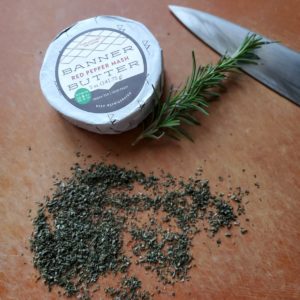 METHOD
Preheat oven to 300° F. 

Place nuts in a heatproof bowl.

Melt butter in a small saucepan over medium-low heat. Be watchful not to let it burn. Add rosemary and thyme and stir for about 1 minute (until fragrant). Remove pan from heat and stir in cumin and cayenne pepper. 

Pour the butter mixture over the nuts and stir to coat. Sprinkle with sugar, salt, and black pepper and gently stir. 

Transfer the spiced nuts to a baking pan with sides and bake for about 15 minutes, stirring halfway through.

Cool and store in an airtight container for up to two weeks.