These crisp buttery low carb almond crackers are also gluten free, and keto friendly so you can have your cheese and crackers too! Balsamic Fig & Onion butter elevates the flavor for a real gourmet treat you can whip up with just a few ingredients. Eat them with a bit of your favorite cheese or build a charcuterie board with these red pepper and rosemary spiced nuts. 
Adapted from This Mom's Menu by Susan Smith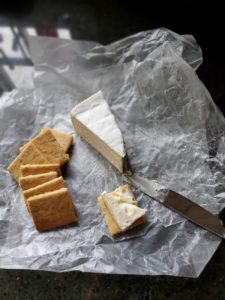 INGREDIENTS
METHOD
Preheat oven to 350 degrees F

In a large bowl, cut butter into almond flour by hand.

Add the egg white and a pinch of salt

Mix until incorporated and a smooth dough forms. 

Roll out the dough to ⅛" thickness between two sheets of parchment paper (you may need to do this in a few batches)

Transfer to a baking sheet and peel off the top parchment layer

Score the dough with a small knife or pizza cutter to create your almond crackers and sprinkle with salt. 

Bake for 10-15 minutes, until crackers are lightly browned. 

Allow to cook before gently breaking them apart along the lines you've cut. 

Enjoy right away or store in an airtight container for up to a week at room temp, longer in the refrigerator.