Have you been trying your hand at sourdough? If so, you may find yourself with copious amounts of sourdough starter discard. Sourdough crackers are a great way to put that sourdough discard to use! These Cheezy, tangy crackers are so good, we've started saving up sourdough discard just to be able to keep these crackers stocked in the kitchen! This recipe can be easily adapted to utilize your favorite hers, spices, and cheeses. 
Recipe adapted from King Arthur Flour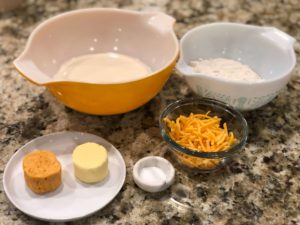 INGREDIENTS
1 cup (113g) White Whole Wheat Flour (you can use other flours, but cracker texture will vary)

½ teaspoon sea salt

1 cup (227g) sourdough starter, unfed/discard

2 tablespoons (28g)

unsalted butter

, room temperature

2 tablespoons (28g)

Red Pepper Mash

butter, room temperature (sub for unsalted if preferred)

½ sharp cheddar cheddar cheese, shredded

oil, for brushing

Sea salt for sprinkling on top
DIRECTIONS
Mix together the flour, salt, sourdough starter, butters, and cheese to make a smooth, cohesive dough. If it's sticky, sprinkle a little more flour, 1 tablespoon at a time, and incorporate until smooth. 

Divide the dough in two, and shape each half into a rectangular slab. Wrap with plastic, and refrigerate for 30 minutes, or up to 24 hours. 

Preheat the oven to 350°F.

Lightly flour a piece of parchment, a rolling pin, and the top of the dough.

Roll each slab of dough to about 1/16″ thick. The edges will be rustic and uneven and that's okay! 

Transfer the dough on the parchment onto a baking sheet. Lightly brush with oil and sprinkle the top of your sourdough crackers with sea salt. 

Using a pizza wheel or sharp knife, Cut the dough into 1-2″ squares. For a more rustic look, you can leave it uncut and break the crackers up after baking. 

Prick each square with a fork.

Bake for 20 to 25 minutes, until the crackers are starting to brown around the edges. Halfway through, rotate and turn the cookie sheets for even baking. 

When fully browned, remove the crackers from the oven, and transfer them to a cooling rack. 

Store airtight at room temperature for up to a week or freeze for longer storage, though they are likely to disappear quickly! 
*For rosemary sourdough crackers, use unsalted butter and 1 tablespoon rosemary. You can skip the cheese or swap for parmesan! 
Looking for gluten free crackers? Try these!