Our favorite fresh summer vegetables and seafood come together in this quick and easy shrimp skillet meal so delicious you may find yourself making it weekly! Shrimp, zucchini, corn, and tomatoes make this dish as bright as it is delicious! For something a little more substantial, serve it over pasta! 
Adapted from The Pioneer Woman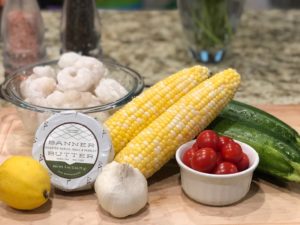 INGREDIENTS
2 tbsp. Roasted Garlic, Basil & Parsley butter (1 oz mini butters are exactly 2 tbsp and perfect for this!) 

2 tbsp. olive oil

4 cloves garlic, minced

¾-1lb shrimp – today we used frozen shrimp we had on hand, but recommend nice jumbo shrimp, peeled, deveined, tails on

2 zucchinis, sliced 

2 ears corn, kernels cut off

1/2 cup grape tomatoes, sliced in half lengthwise

1 lemon, juiced

salt and pepper, to taste

chopped fresh parsley for garnish, optional
DIRECTIONS
Wash, chop and prep veggies. 

Heat 1 tablespoon butter and 1 tablespoon olive oil in a large cast iron skillet until butter has melted. Add ½ of the minced garlic. When garlic first begins to brown, add shrimp and cook for 3 minutes. Remove and set aside, leaving any remaining garlic and juices in the skillet.

Add the remaining butter and oil and melt over medium heat. Carefully place zucchini slices in a single layer and cook for just a minute, tossing halfway through. You want it to still have a bit of a crunch! Push the zucchini to the edges of the pan, and add corn kernels to the center of the pan. Cook for another minute. Add grape tomatoes, salt, and pepper, and toss all veggies to combine. 

Add the shrimp back in and stir. Remove from heat. Squeeze lemon and toss with fresh parsley if you'd like. 

Serve right out of the skillet or transfer to a platter and let it cool a bit before serving. 
Addicted to shrimp? Try these recipes! 
Grilled rosemary shrimp skewers