Recipe Title: Grilled Apple Glazed Chicken Thighs
Total Prep Time: 5 minutes
Total Cook Time: 25 minutes
Servings: 2-4 servings
Level of Difficulty: 2
(Levels 1-5, with 5 being the most difficult)
Recipe by Brandyn Baker @blackdog_bbq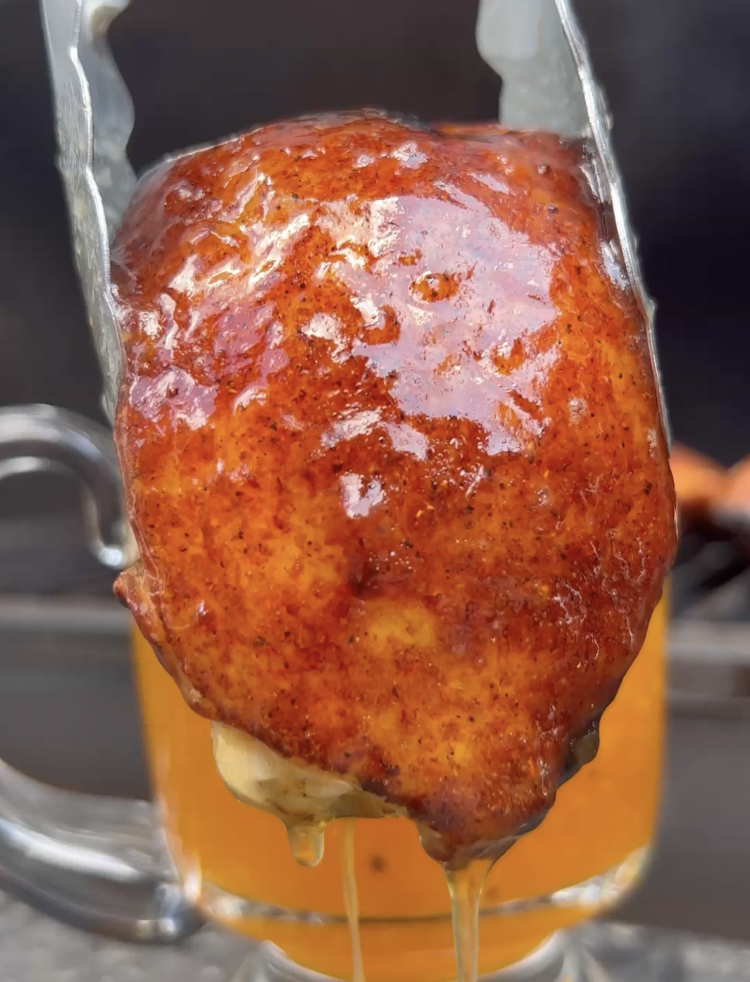 Ingredients
2-3 lbs. bone-in, skin-on chicken thighs
1 (12 oz.) jar of apple jelly
1 packet of Banner Butter BBQ-Flavor
2 T apple cider vinegar
BBQ Rub of choice (I used Wild Fork Foods Spicy Mojo rub) as desired
For the Apple Glaze:
Place a saucepan over medium-high heat and add the butter (400 degrees if using a griddle). Once the butter has melted, add the apple jelly and apple cider vinegar, stirring as needed. Once the mixture begins to simmer, reduce the heat to low (275 degrees for griddle) and continue cooking until the glaze is well combined about 10 minutes.
Once the glaze has reached the desired consistency, set the saucepan aside and turn off the heat source.
For the Chicken:
Preheat the grill to 400 degrees. Meanwhile, trim the chicken thighs of any excess fat or skin, discarding waste as needed (I try to trim up the chicken thighs so that the shape of each is consistent. This helps to ensure an even cook). Next, season the chicken with your favorite BBQ rub of choice. Repeat this step until all thighs have been seasoned.
Once the grill has preheated, add the chicken skin-side up. Allow the chicken to cook until the internal temperature registers ~150-160 degrees. At that point, liberally apply the apple glaze to the chicken thighs using a pastry brush until all the thighs are thoroughly coated. Continue to cook until the internal temperature registers at least 165 degrees and the glaze has set. Once this occurs, set the chicken thighs aside and shut off the grill.
Tip #1: I prefer dunking the chicken in the sauce to ensure a more even coating of the apple glaze.
Tip #2: Chicken thighs are very forgiving. I often cook them to 180-190 degrees to help create a nice, crispy skin.
To Finish:
Add the chicken thighs to serving plates with sides of choice and top with the remaining apple glaze (as desired). Enjoy!