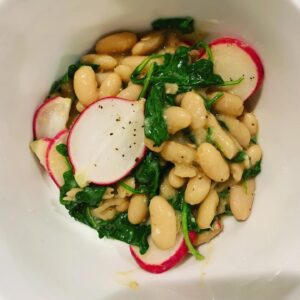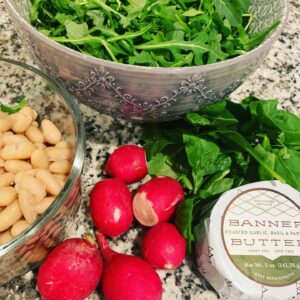 View the video HERE
White Beans and Arugula with Miso Butter
Time:  10 minutes
Ingredients:
4 Tbs Roasted Garlic, Basil & Parsley Banner Butter (about 1/2 of a 5 oz round)
2 Tbs miso paste (white Miso or other mild miso)
1 can white Navy or white Kidney beans, drained
3 cups arugula
1 small bunch radishes, sliced, with some green tops if you have them
1 lemon
The first step is to brown the butter in a medium sauce pan, about 4 minutes on medium heat, being careful not to scorch the butter.  When it starts to brown around the edges it is ready.  Thin the miso paste with about 1/4 cup of water, and add to butter.  Add the white beans and cook until heated through, about 2 minutes.  Add about half of the sliced radishes (with some of the green tops if you have them,) and heat for another 2 minutes.  Then add the arugula, stir, and turn off the heat.  The arugula will wilt from the heat in the pan.  Garnish with the fresh radishes and a generous squeeze of lemon juice.