Don't let those old brown bananas go to waste! Give them new life with this delicious triple chocolate banana bread! Make it gluten free if you'd like, too! We've taken a basic chocolate chip banana bread and intensified the chocolate flavor with cocoa and dark chocolate butter for a chocolate lover's delight! Stock up on 6 Dark Chocolate Butters (a seasonal flavor), or add a few to your mix & match pack. We also love our Butter Warmer from Made In for this recipe! It's the perfect size for melting a round of butter! You can easily modify this recipe as needed to utilize what you have on hand at home.
Adapted from Erin Jeanne McDowell for NYT Cooking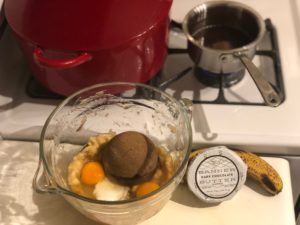 INGREDIENTS
3-4 very ripe bananas

1 5oz round Dark Chocolate Banner Butter, melted

⅓ cup plain Greek yogurt

1 cup brown sugar

2 large eggs

2 teaspoons vanilla extract

1 ¾ cups

Bob's Red Mill One to One Gluten-Free (or All-Purpose flour)

⅓ cup cocoa powder (if you don't have cocoa, sub for another 1/4 c. flour)

1 ½ teaspoons baking soda

½ teaspoon fine sea salt

1 cup chocolate chips (we prefer mini chips for maximum chocolate bits in every bite)

¾ cup chopped toasted nuts (optional)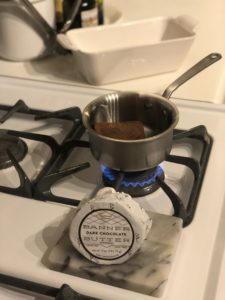 METHOD 
Heat oven to 350 degrees. Lightly grease 9×5-inch loaf pan with butter. 

Melt the dark chocolate butter, carefully watching so it doesn't burn. We used our

Made In Butter Warmer

In a large bowl, mash the bananas using a fork. Whisk in the melted butter, yogurt, brown sugar, eggs and vanilla until incorporated.

In a medium bowl, whisk the flour, cocoa, baking soda and salt together. Add the flour mixture to the banana mixture and stir using a wooden spoon or silicone spatula. 

Fold in the chocolate until combined, then pour the batter into the buttered loaf pan.

Bake until the edges of the loaf start to pull away from the edge of the pan, and a toothpick inserted into the center comes out with a few crumbs attached, about 60 minutes. Again, keep a watchful eye and cover loosely with foil if the top of the loaf is becoming too dark before it's baked through.

Separate the loaf from the pan by running a thin knife or spatula along the edges. Let cool in the pan for 10 minutes before transferring to a plate and cooling completely.