We've partnered with our friend Charity Everett to bring you a dish that's perfect for using up that beautiful summer produce. Gorgeous tomatoes transformed into a Tomato Cobbler with a Garlic and Herb Butter Biscuit Topping that's made using our slow-cultured Roasted Garlic, Basil and Parsley Butter! Let's dig in…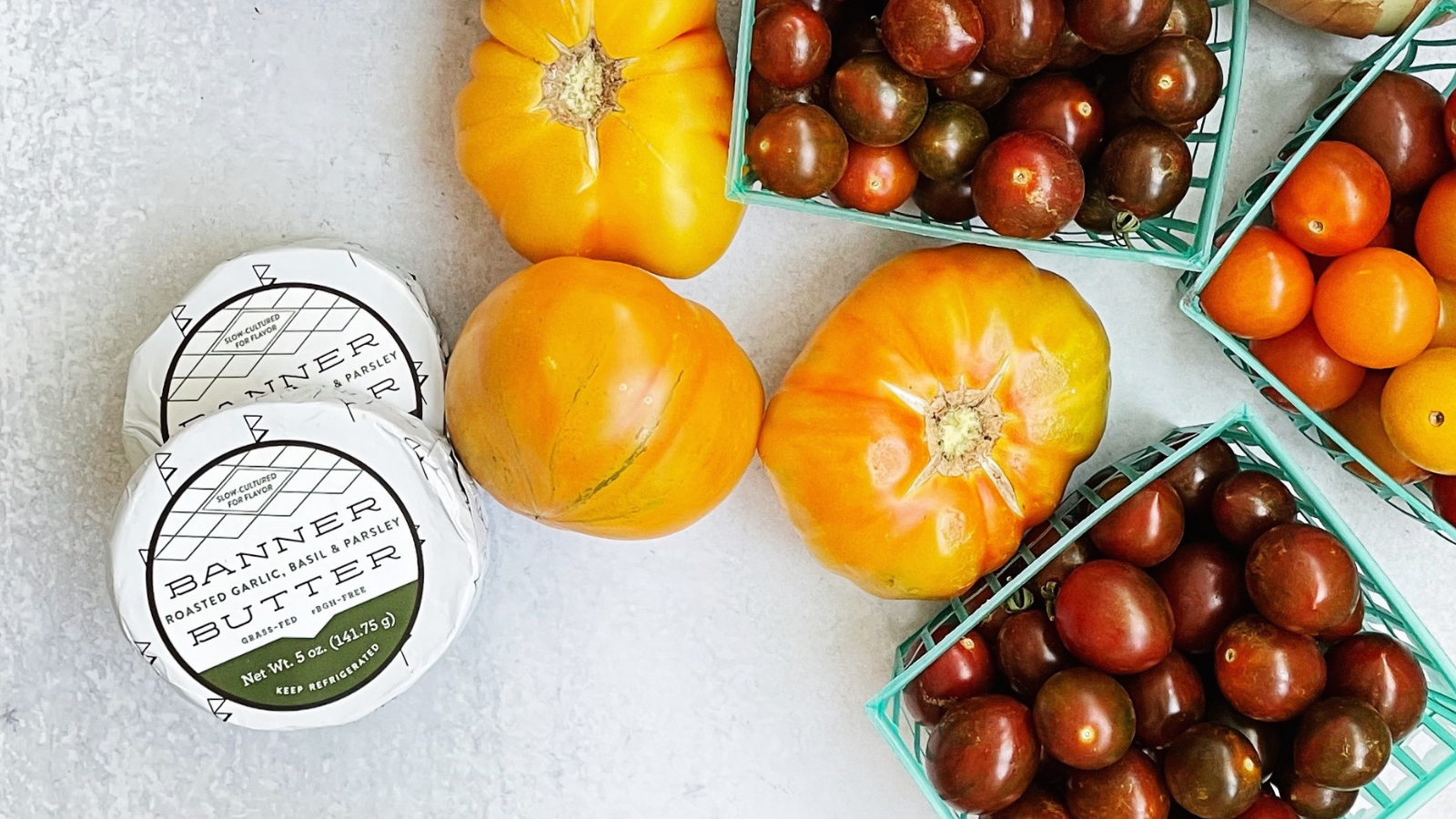 Garlic and Herb Biscuit Topping
4.5 cups All-purpose Flour
1.5 tbls Sugar
5 tsp Baking Powder
1.5 tsp Kosher Salt
1 tsp Baking Soda
6 ounces Cold slow-cultured Roasted Garlic, Basil and Parsley Banner Butter, cubed, plus more for finishing
2.25 cups Buttermilk
Heavy Cream for Brushing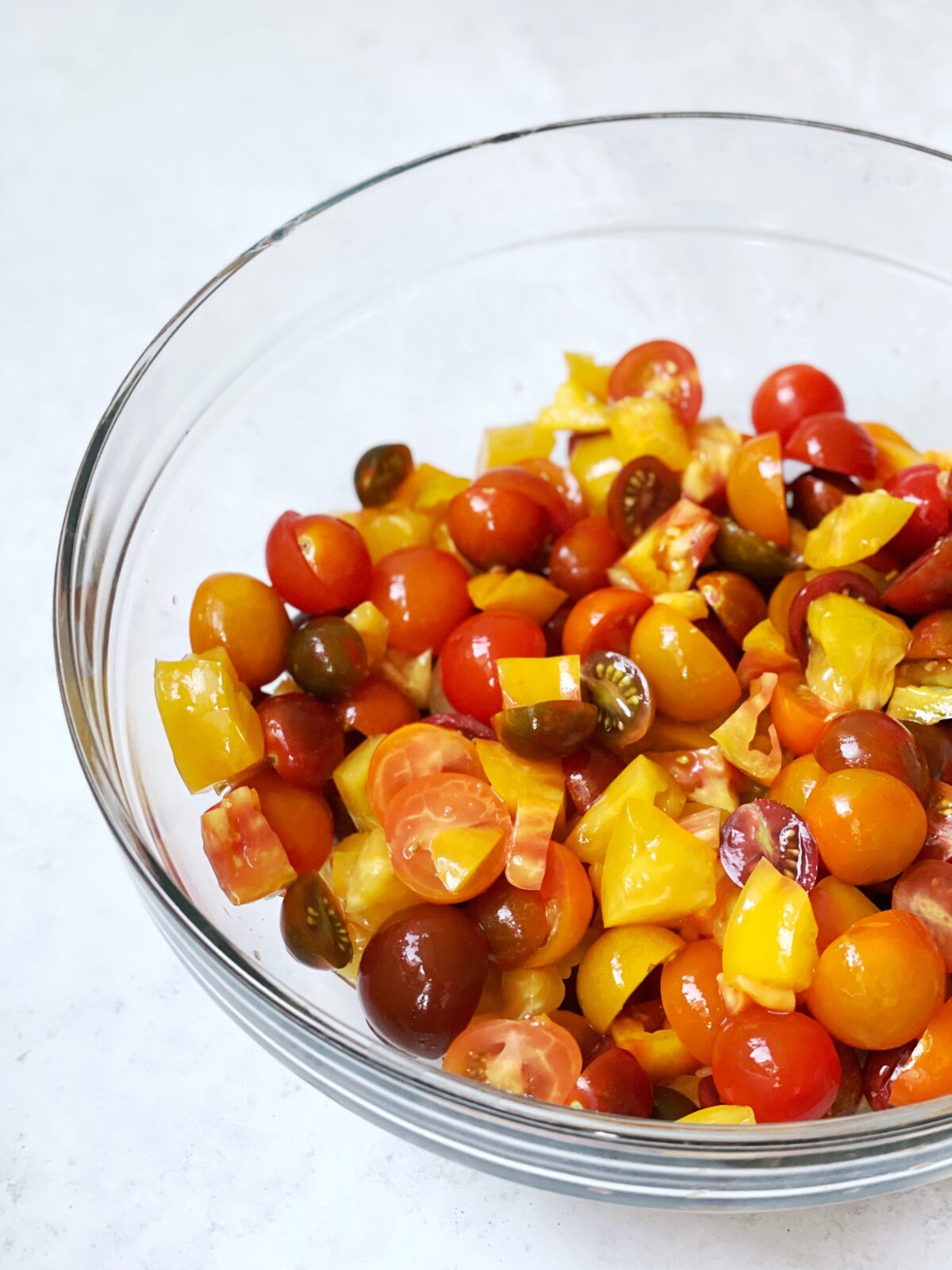 Tomato Filling
2 large Bell Peppers, diced
1 large Vidalia Onion, diced
1 tbls Vegetable Oil
2 lbs Assorted Tomatoes, diced (or halved if using cherry tomatoes)
2 cloves Garlic, thinly sliced
3 tbls Basil, chiffonade
3 tbls All-purpose Flour
2 tbls Lemon Juice
1 tbls Sherry Vinegar
2 tsp. Kosher Salt
3 tbls Sugar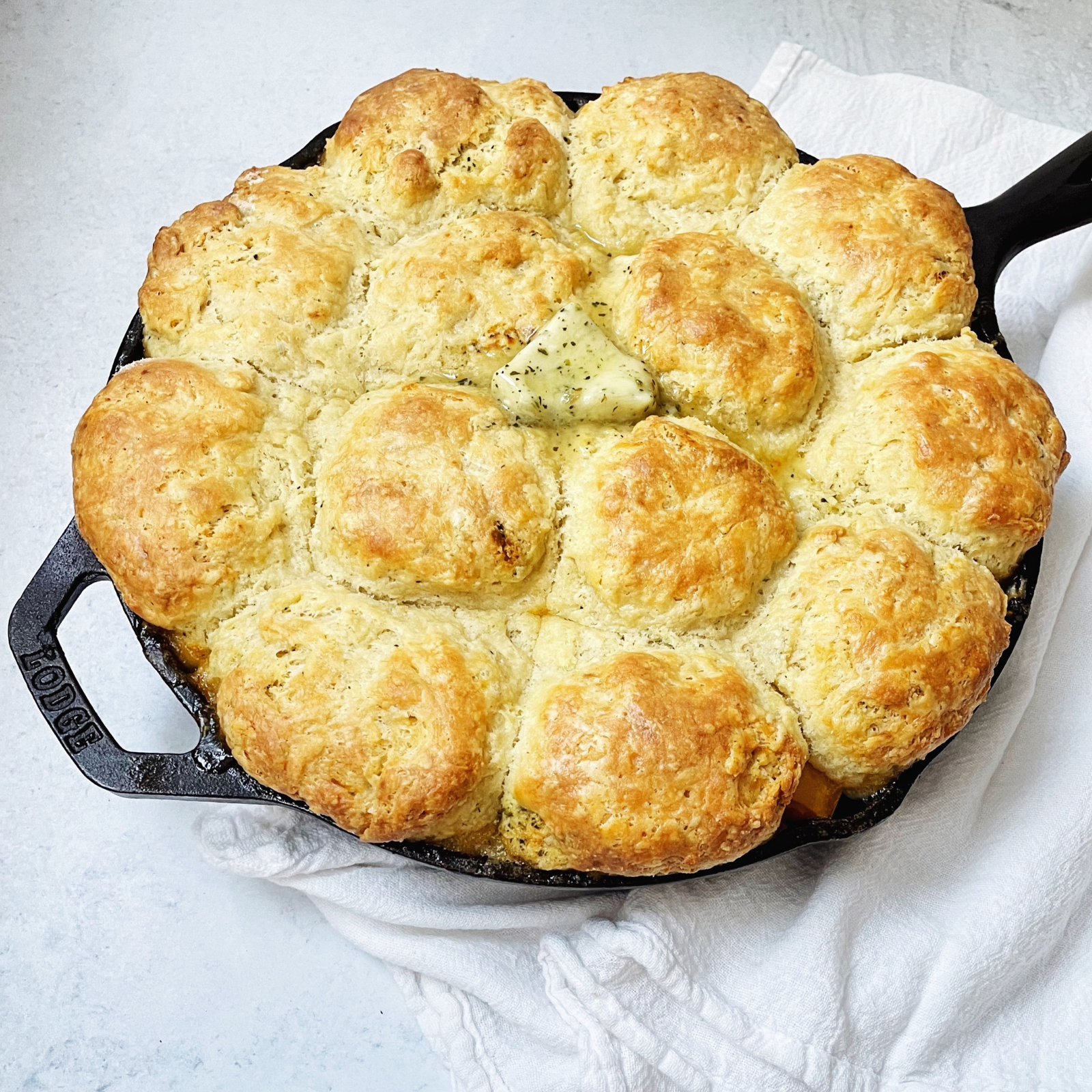 Make the Biscuit Topping:
Add the flour, sugar, baking powder, salt, and baking soda to a large bowl and stir to combine. Add the cubed Roasted Garlic, Basil, and Parsley Slow Cultured Banner Butter, and toss to coat in flour. Rub the butter and flour between your fingers creating flakes of butter in the flour mixture. Make sure to work quickly to avoid warming the butter. Add the buttermilk and stir gently until just combined. Turn the dough out onto a well-floured surface and fold the dough over itself 10- 15 times, turning the dough 90 degrees after each turn. Pat the dough into a 1 inch thick round and cut with a 2.5" round cutter. You should get 12-14 biscuits. Place the biscuits on a parchment-lined baking sheet and place them in the freezer while you assemble the tomato filling.
For the Tomato Filling:
Heat a 10" cast-iron skillet over medium-low heat. Add the vegetable oil, and swirl to coat the bottom of the pan. Add the diced bell peppers and onion. Cook, stirring often until peppers are soft and onions are translucent. Remove from the heat and allow to cool. In a large bowl, gently stir together the tomatoes, onion and pepper mixture, garlic, basil, flour, lemon juice, sherry vinegar, salt, and sugar.
Assemble the Cobbler:
Pour the tomato mixture back into the skillet and smooth it into an even layer. Remove the biscuits from the freezer and arrange them on top of the tomato mixture. Using a pastry brush, brush the top of the biscuits with heavy cream. Place the skillet on a baking sheet to catch any tomato juice that may bubble out Bake at 350º for 45 minutes, turning halfway through until biscuits are browned and cooked through and tomatoes are bubbling around the edges.
Top with additional Roasted Garlic, Basil, and Parsley Banner Butter before serving.