Smoked Salmon Tartine with Banner Butter. It's simple, bright, and delicious. Great for a quick weekday breakfast or a leisurely weekend brunch. @charityeverett is using 2 of our butters for this recipe, and you could sub out as needed with one of our other flavors for the same great taste.
Try with our Smoked Sea Salt Butter, Sea Salt Butter, Roasted Garlic Basil & Parsley Butter, or a seasonal flavor like the Lemon Chive.
Serves 1
1 Slice Multigrain Sourdough
2-3 Large Eggs (depending on your preference)
2 tbls Unsalted Banner Butter, divided
Kosher Salt, to taste
1 tbls Lemon Chive Banner Butter / or try our Smoked Sea Salt, Sea Salt or Roasted Garlic Basil & Parsley Butter
1 tbls creme fraiche
2 oz Smoked Salmon
2 tbls Red Onion, thinly sliced
1 tbls Chives, sliced
1 tsp Dill Fronds
1 tsp Brined Green Peppercorns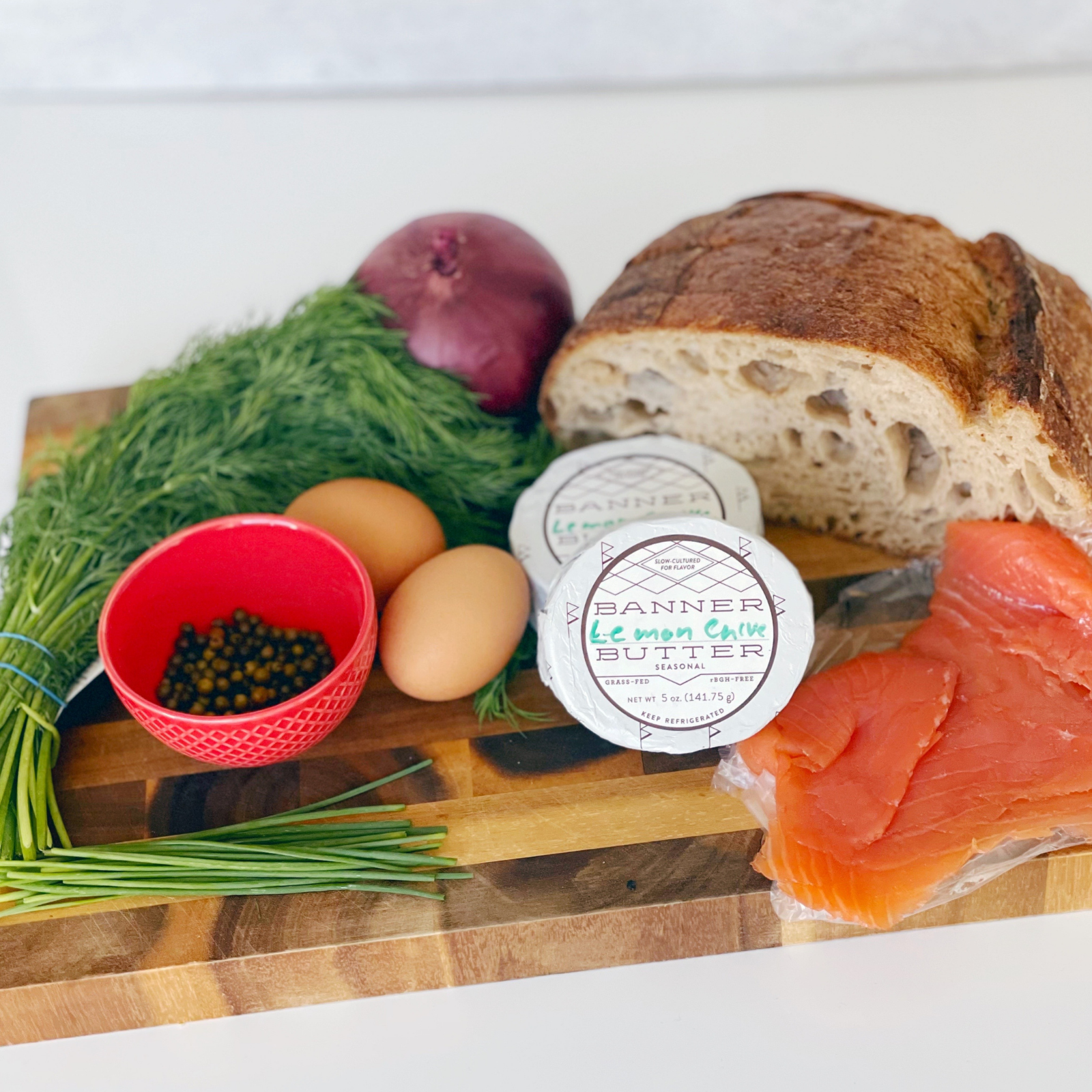 Toast the Bread:
Heat a medium skillet over medium-low. Spread both sides of the bread with 1.5 tsp unsalted butter. Place the bread in the skillet and cook until golden brown, 2-3 minutes. Turn the bread over and toast the other side. Remove the bread from the pan and set it aside while you prepare the eggs.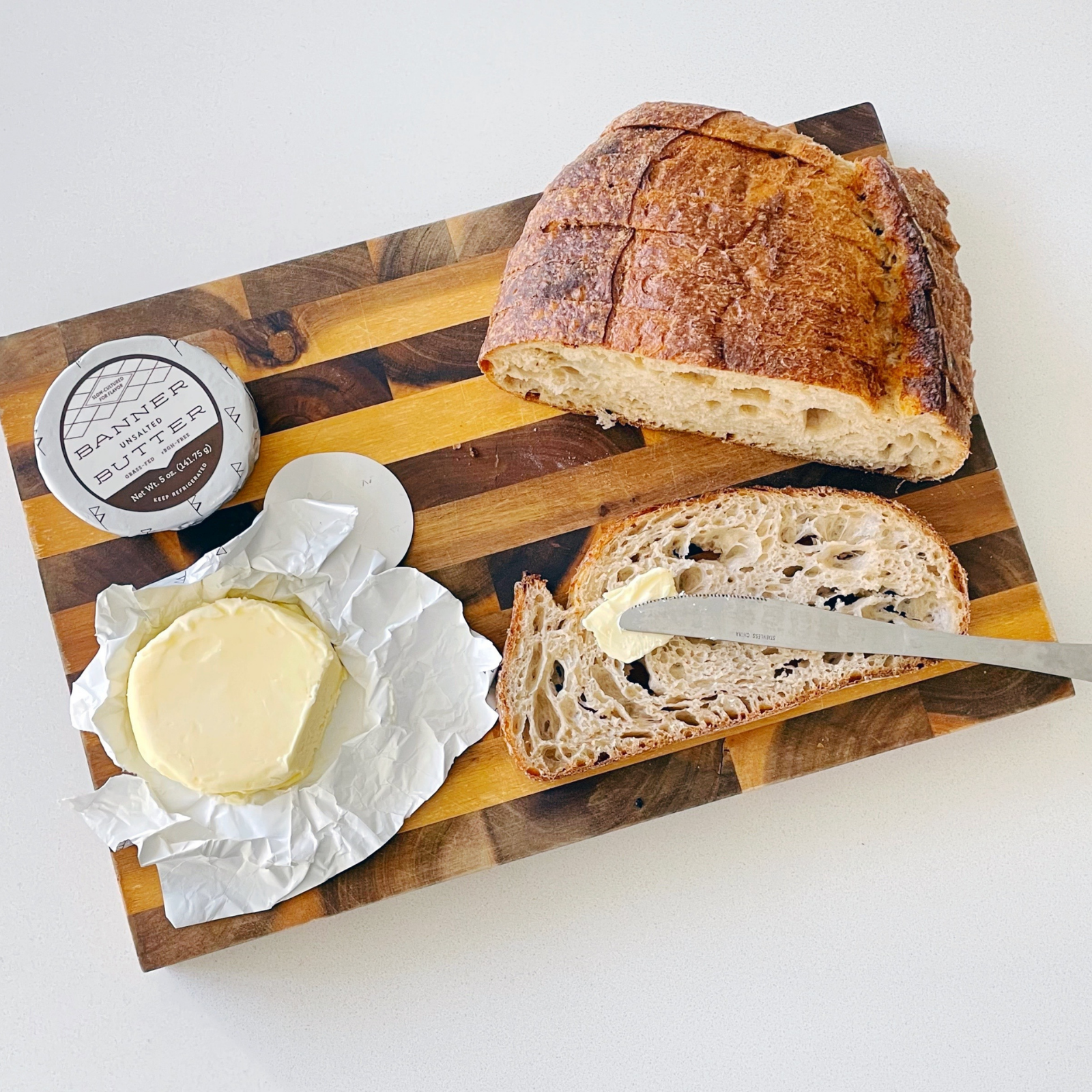 Scramble the Eggs:
Place the eggs in a medium bowl, add a pinch of salt to taste, and whip with a fork or whisk until yolks and whites are fully combined. Heat a small non-stick skillet over low heat, add the remaining tablespoon of Unsalted butter and allow to melt, swirling to coat the pan. Pour the eggs into the skillet and stir gently but constantly in a circular motion, moving from the center of the pan to the outer edges and back again until the eggs are about halfway set. Add 1 tablespoon of Lemon Chive butter and continue to stir until butter is fully incorporated and eggs are just set. Remove from heat and set aside.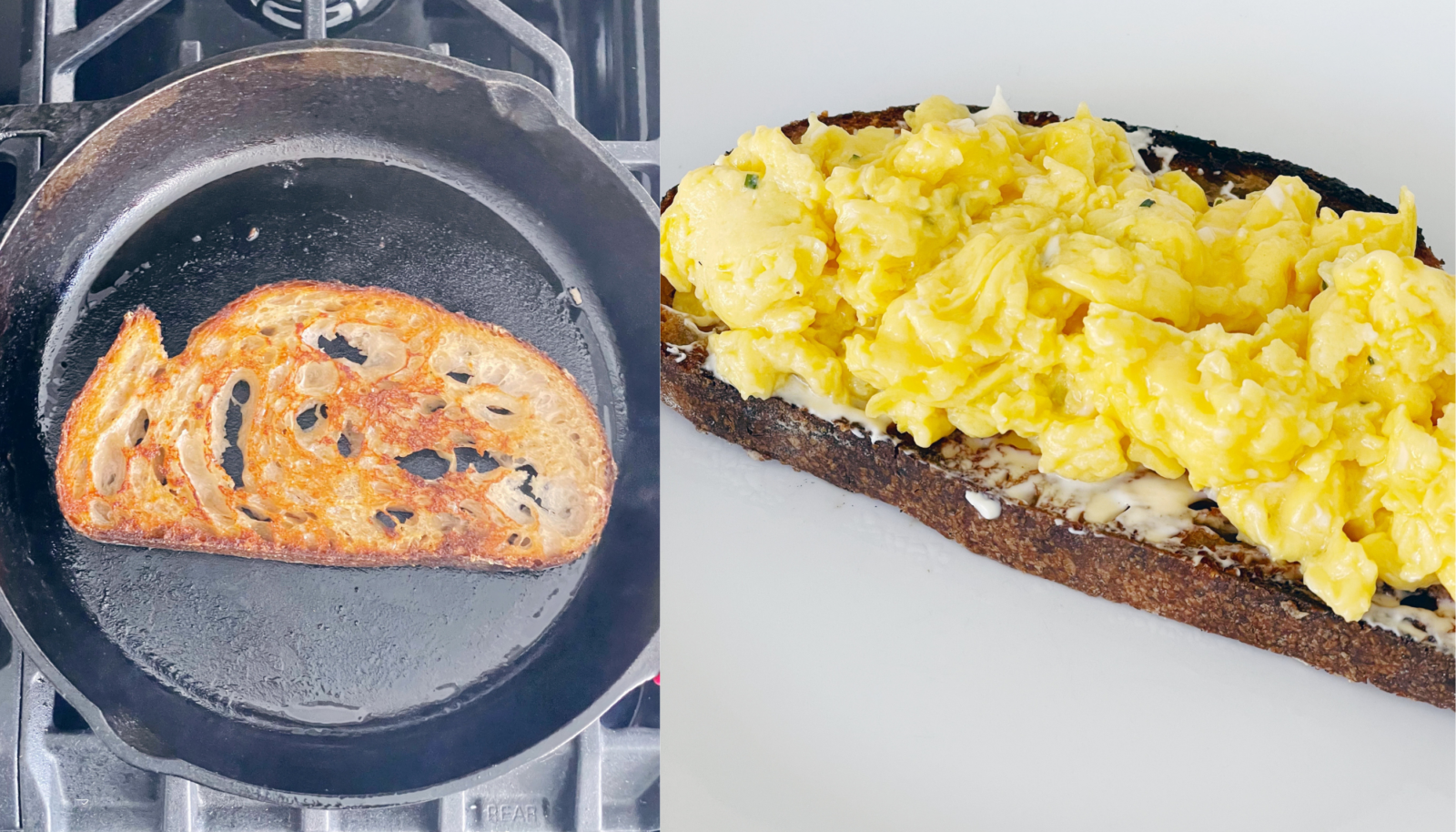 Assemble the Tartine:
Spread the creme fraiche in a thin layer over the toasted bread, top with eggs, then layer on the smoked salmon. Garnish with red onion, chives, dill, and brined green peppercorns. Enjoy immediately.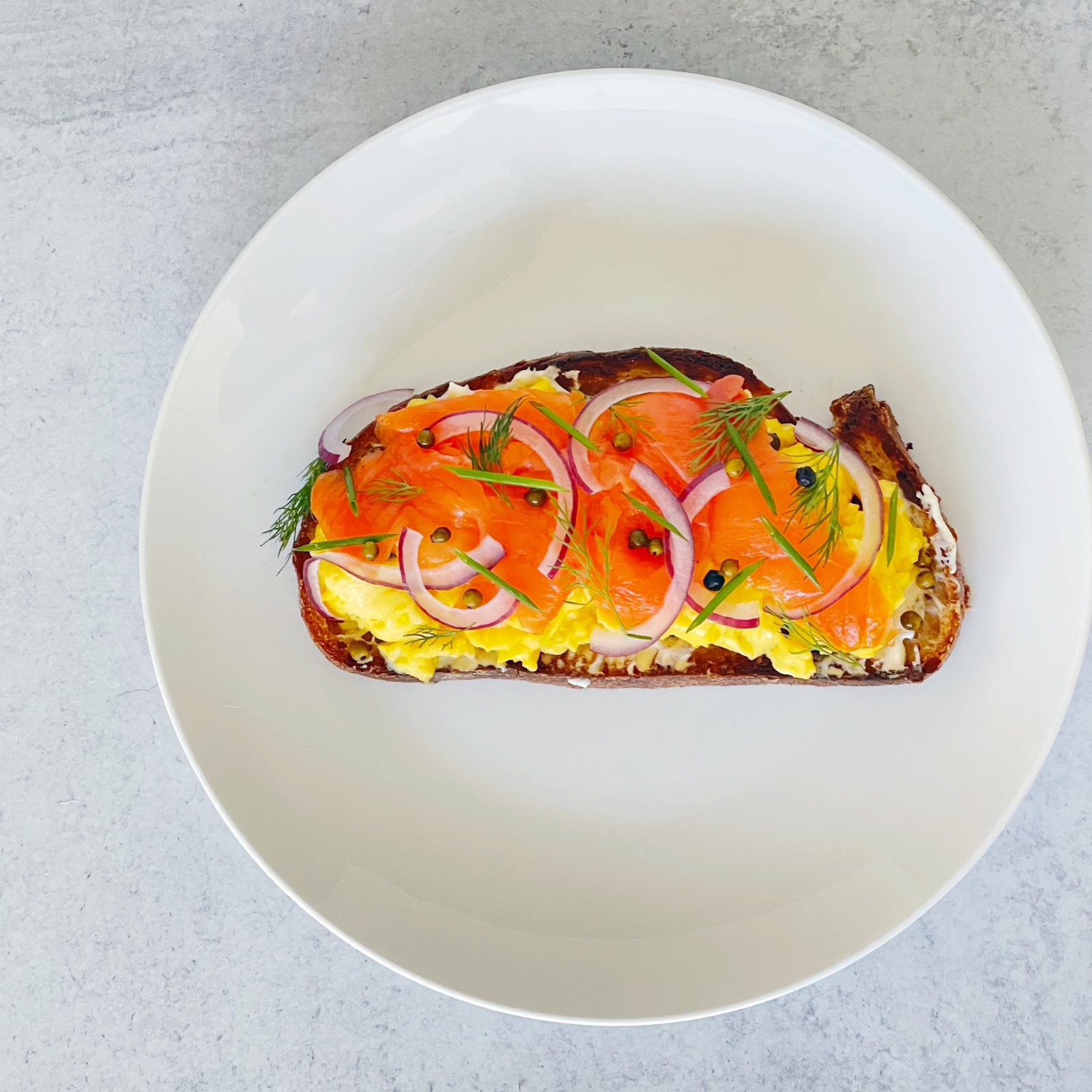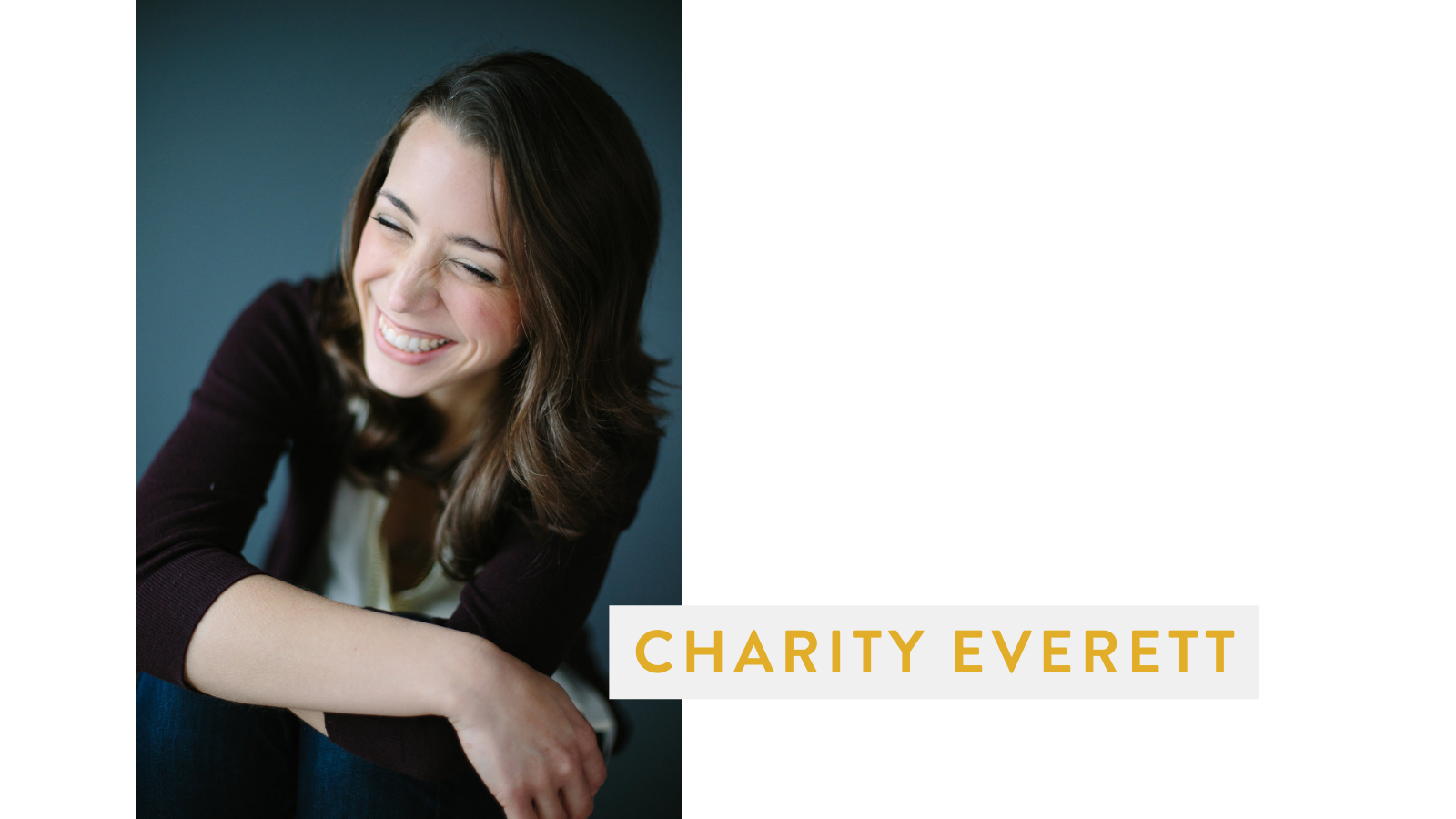 The map ID you have entered does not exist. Please enter a map ID that exists.