Seared Scallops and risotto at home? Yes, please! Here's a simple seafood dish that feels like something straight from a fancy restaurant. Christin Singh, from Christin Creative Co., will walk you though this easy process to create this decadent dish. 
Serves 3
INGREDIENTS:
Seared Scallops:
1 lb fresh scallops

1-2 teaspoons smoked paprika

1 teaspoon garlic powder

Salt & pepper

Olive oil

5 tablespoons

Unsalted Banner Butter

(½ of a round) 

1/4 cup Pinot Grigio

1/2 teaspoon red pepper flakes

2 cloves garlic, chopped

Handful chopped fresh parsley

1/2 lemon
Risotto:
2 tablespoons olive oil

1/2 cup minced onion

1 clove garlic, chopped

1 cup Arborio rice

2 cups chicken stock

1/4 cup grated Parmesan

1-2 teaspoons

Smoked Sea Salt Banner Butter

1/2 teaspoon truffle oil (add more to taste)
Cheesy Broccoli:
3 cups fresh broccoli

1/2 cup shredded cheddar cheese

Salt & pepper

1/4 teaspoon red pepper flakes
DIRECTIONS
Scallops & Butter Sauce:
Wash and prepare scallops. Season with salt, pepper, smoked paprika and garlic powder.

In a nonstick skillet, add 5-6 tablespoons of olive oil and 2 tablespoons of Unsalted Banner Butter in a skillet.

Make sure the skillet is very hot. Then add in scallops. Cook about 2 minutes on each side.

Look for a golden brown edge to form about 1/4 of the way then flip. Internal temperature should

be 130°F. Total cook time will vary based on the thickness of your scallops.

Once cooked, remove scallops from the pan.

Deglaze pan with 1/4 cup of Pinot Grigio, cook on high for about 2 minutes.

Add in red pepper flakes, chopped garlic, parsley and juice of 1/2 a lemon to skillet.

Simmer on low for about 3 minutes and finish sauce with 3 more tablespoons of Unsalted butter. Salt and pepper to taste.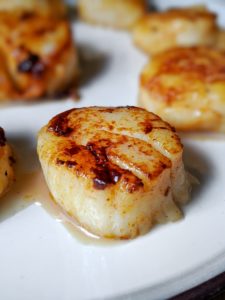 Risotto:
Boil chicken stock to a simmer and keep on low heat.

In a nonstick skillet, add olive oil and heat to medium.

Add onions and garlic. Cook until translucent and fragrant, about 2-3 minutes.

Add Arborio rice and lightly toast for 2 minutes. Continuously keep turning rice until toasty.

Turn heat to low and add heated chicken stock 1/3rd at a time stirring until all stock is used

and rice is cooked.

Once all liquid is absorbed, remove from heat and stir in Parmesan, 1-2 teaspoons of

Smoked Sea Salt Butter.

Finish with a drizzle of truffle oil and red pepper flakes, you can add more to taste.
Cheesy Broccoli:
Prepare and clean broccoli florets

Add into a nonstick skillet and drizzle with olive oil, season with salt pepper and red pepper flakes.

Add 3-4 tablespoons of water and sprinkle with cheddar cheese.

Turn heat to low and cover. Steam for 4-5 minutes o

r until broccoli is tender and cheese is melted.
Serve scallops over risotto and drizzle with butter sauce. Serve cheesy broccoli on the side.