This sweet side dish comes together in a few simple steps and presents beautifully! Try it with our seasonal Honey Rosemary butter or Cinnamon Cardamom Ginger butter too! 
By Tim Shelburn
Ingredients
2 large sweet potatoes

2-3 pink lady apples

2 tablespoon Unsalted Banner Butter, melted. 2 T = 1oz, so a mini butter will do the trick! 

1 1/2 teaspoon Jacobsen flake finishing salt

2 teaspoon chopped fresh rosemary

2 teaspoon oregano

2 teaspoon rubbed sage

1/2 teaspoon coarse black pepper
Directions
Heat oven or grill to 400. If using a grill, make sure it's indirect heat.

Peel potatoes

Use a mandolin slicer or a sharp knife to cut the potatoes and apple into thin slices, discarding the apple core.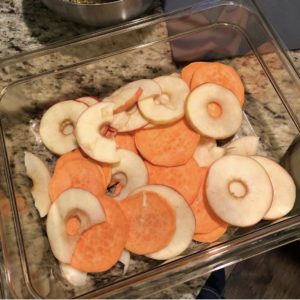 Mix all ingredients together in a large bowl and toss in apples and potatoes until everything is coated.

Stack the potatoes and apples upright in a cast iron still or baking tray.

Bake for one hour or until potatoes and apples begin to crisp on top.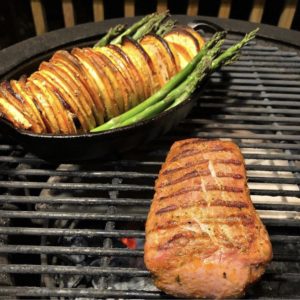 Serve it stacked with pork tenderloin or as a side straight out of the skillet. Enjoy!