Recipe Title: Roasted Pheasant w/ Pomegranate Molasses
Recipe by Brandyn Baker @blackdog_bbq
Time for a special holiday meal! Brandyn made this beautiful Roasted Pheasant using our Roasted garlic, parsley & basil Butter!
There is wiggle room with this dish; sub a  Cornish Game Hen, Roast in the oven vs. a Rotisserie, and the endless vegetable possibilities. Whichever way you choose, make sure to use our slow-cultured Roasted Garlic compound butter to boost flavor without the extra work!
Ingredients:
1-gallon water
1 C sugar
1 C salt
4 C pomegranate juice
½ C brown sugar
1 lemon, juiced
1 (2-4 lbs.) pheasant, whole
1 package roasted garlic, parsley & basil Banner Butter
LakeShore Drive Seasoning from The Spice House to taste (swap with other herbs heavy rub if desired)
Oil as needed
For the Brine:
Combine water, salt, and sugar in a large stockpot over high heat, stirring as needed. Once the salt and sugar have dissolved, take off the heat source, add ice, and rest until the brine reaches room temperature. At this point, add the pheasant and brine for at least 4 hours but preferably overnight.
For the Pomegranate Molasses:
Add pomegranate juice, brown sugar, and lemon juice to a saucepan over medium-low heat. Allow the sauce to simmer until reduced to a spoon-thick consistency. Set aside at room temperature until ready to use (I'd make this while the pheasant is cooking. It does not do well sitting for long periods of time).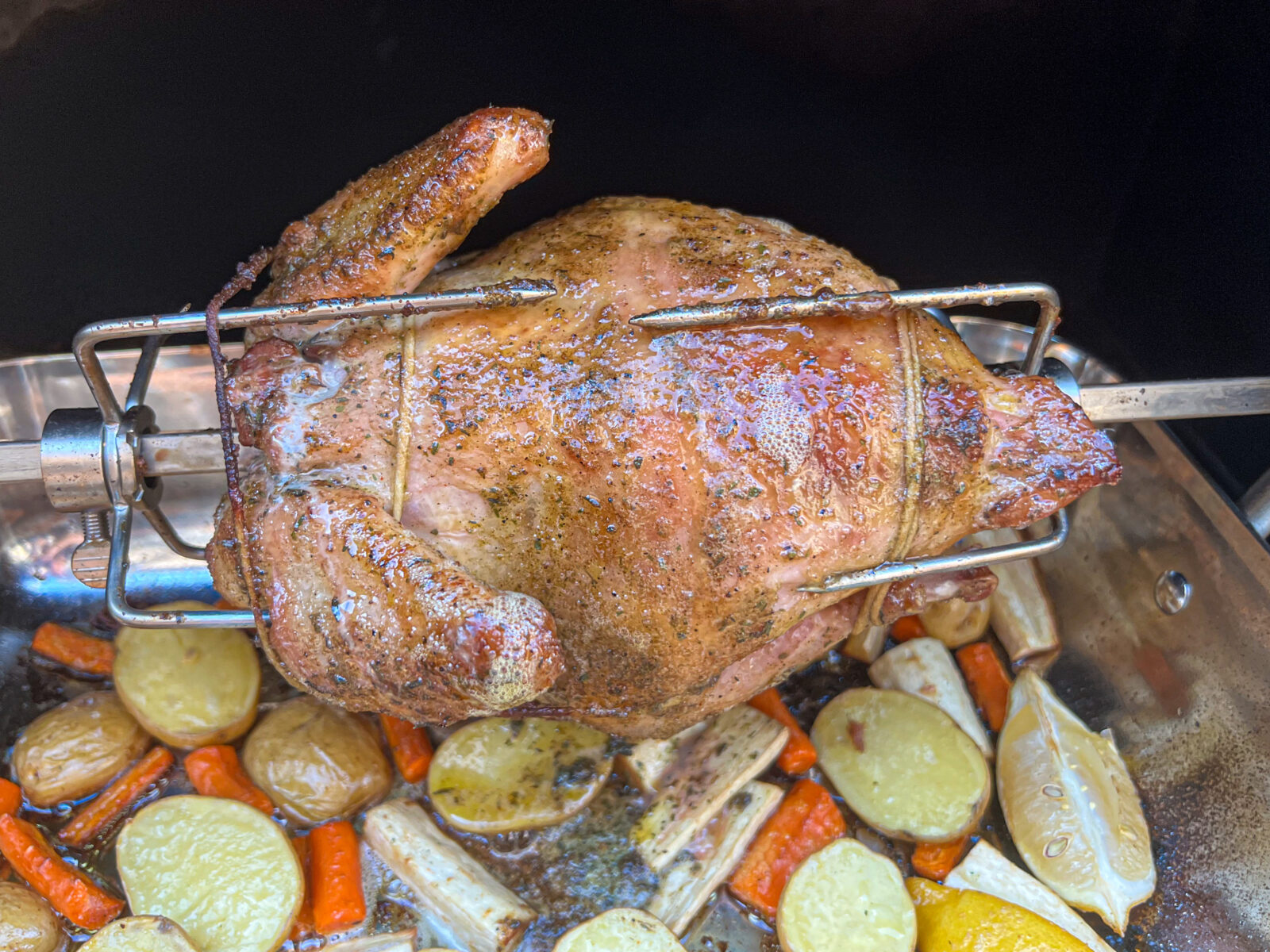 For the Pheasant:
When ready to cook, preheat the grill to 375 degrees. Meanwhile, pat the pheasant dry and stuff under the skin with Banner Butter. Next, slather the pheasant with oil, then season to taste with the seasoning mentioned above or a preferred substitute.
IF USING A ROTISSERIE: Place the rod through the pheasant's cavity, then add the clamps, making sure the bird is secured (if not using a rotisserie, I'd put this in a roasting pan). Place the pheasant on the rotisserie to cook.
Once the internal temperature registers 160-165 degrees, remove the pheasant and turn off the grill.
To Finish:
Allow the pheasant to rest for 15-20 minutes before carving. Serve with pomegranate molasses & vegetables of choice. Enjoy!