A beautiful Pan Seared Chicken dish from @blackdog_bbq made using our butter. The herby pan sauce could also be whipped up using our Smoked Sea Salt or Roasted Garlic Basil & Parsley Butter.
Ingredients:
2 T olive oil
2 skin-on, bone-in chicken breasts
@traegergrills fin & feather rub
1 cup dry white wine
1 clove garlic, minced
1.5 T Italian herbs
2 T Roasted Garlic Basil & Parsley Butter.
1 tablespoon minced green onions
For the potato hash:
3 yukon gold potatoes
1 zucchini
1 squash
1 small red onion, thinly sliced
2 eggs, beaten
5 tablespoons all-purpose flour
1 clove garlic, minced
2 tsp Italian herbs
1 teaspoon Cajun spice
Olive oil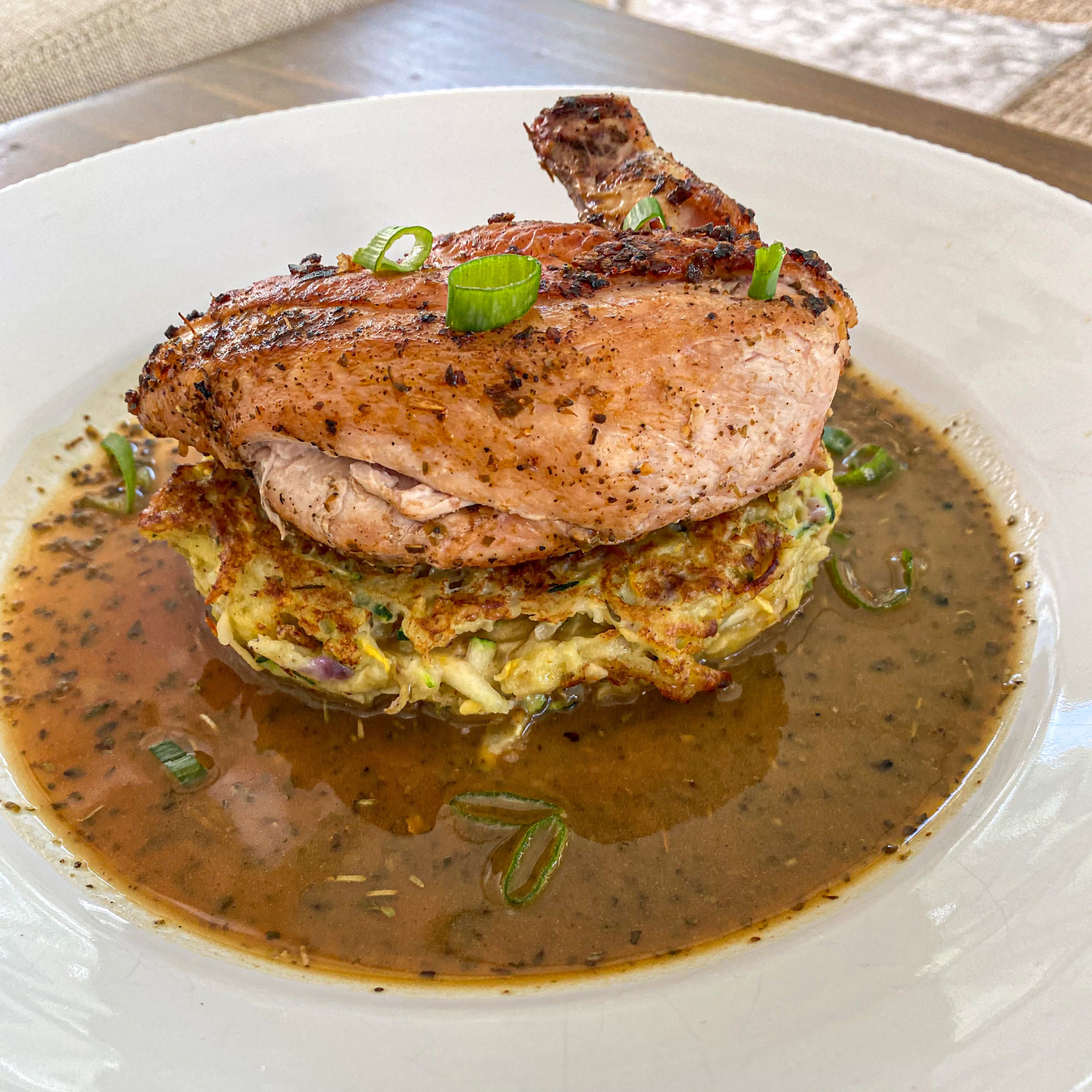 Steps:
1. Set cast iron pan on the grill with oil and preheat to 500 degrees. Meanwhile, season chicken with fin & feather rub and set aside.
2. Once the grill is preheated place chicken skin side down for 4-5 minutes until golden brown, then flip. Continue cooking until 165 degrees has been reached.
3. Meanwhile, use a food processor to finely shred potato hash vegetables. Then pour in a large bowl and mix with remaining ingredients and form into patties. Use more flour than listed if needed. Set aside.
4. By this time, the chicken should be finished. Set chicken aside to rest, but leave the skillet on the grill. Pour white wine, garlic, and Italian herbs into skillet and reduce liquid by half. Then, take off the heat and add in butter. Set herb jus aside to serve.
5. Finally, sear potato hash patties ~2-4 minutes a side until golden brown. Flip and repeat until desired texture is achieved.
6. Serve chicken and potato hash with herb jus and green onions. Enjoy!


The map ID you have entered does not exist. Please enter a map ID that exists.