This delicious Irish Soda Bread will get you in the spirit for St. Patrick's Day! Irish soda bread is a quick bread and doesn't require yeast and is ready in about an hour! Crusty, dense, yet soft and delicious, this buttermilk soda bread is best served with our whiskey butter! 
Adapted from Sally's Baking Addiction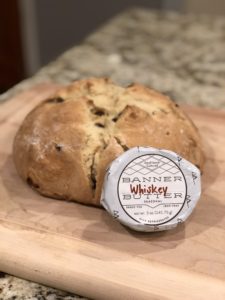 INGREDIENTS
1 ½ cups buttermilk (we used our real butter whey)

4 ¼ cups all purpose flour (plus more for kneading)

3 T sugar

1 tsp baking soda

1 tsp salt

5 T unsalted Banner Butter, chilled and cubed

1 cup raisins (optional)

1 round Banner Butter Whiskey Butter for serving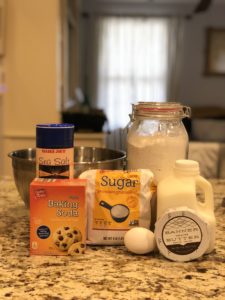 METHOD
Preheat oven to

400°F. Set aside 10-12 inch cast iron skillet or baking sheet lined with parchment. 

Whisk together buttermilk and egg. Set aside. 

Stir the flour, sugar, baking soda, and salt together in a large bowl. Using a pastry cutter, fork, or clean hands, cut in the butter and work the dough until butter is incorporated and dough resembles crumbs. Stir in the raisins.

Pour in the buttermilk and egg mixture and carefully fold it in until incorporated. 

Flour work surface and flour hands then work the dough into a round loaf, kneading for about 30 seconds or until all the flour is moistened. If the dough is too sticky to work, add a little more flour.

Transfer the load to the skillet or pan. Score an x in the top with a sharp knife. 

Bake about 45 minutes, checking halfway through. The bread should be golden brown on top and appear cooked through at the center. If it's browning too quickly,loosely cover the bread with aluminum foil and continue baking.

Remove from oven and allow bread to cool for 10 minutes, then transfer out of skillet to continue cooling.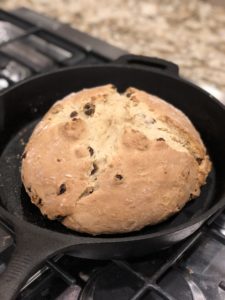 Serve warm or at room temperature, but always spread with your favorite butter! We love pairing with our Whiskey Butter, made with American Spirit Works Distillery's Resurgens Rye! 
Cover and store bread at room temperature for 2 days, in the refrigerator for up to 1 week, or wrap tightly and freeze for up to 3 months. 
Give this Irish Soda Bread a try!