What's a surefire way to elevate your holiday mornings or your afternoon tea game? An excellent scone. We have included the ingredients and instructions for the ones we made here, a recipe by An Edible Mosaic.  The only modification we made was to substitute regular butter with Cinnamon Cardamom Ginger.
Prep time:  25 mins
Cook time:  15 mins
Total time:  40 mins
Yield: 8 large scones
INGREDIENTS
Scones:
2½ cups (320 g) all-purpose flour
6 tablespoons (75 g) sugar
1 tablespoon baking powder
¾ teaspoon salt
½ teaspoon freshly ground nutmeg
2 tablespoons unsweetened dried cranberries, chopped small
4 teaspoons minced fresh rosemary
6 tablespoons (80 g) [Cinnamon Cardamom Ginger] butter, chilled and diced
1 cup (237 ml) half and half (or milk or cream), plus 2 tablespoons more for brushing on top
1 teaspoon vanilla bean paste
Glaze:
1 cup (115 g) powdered sugar
½ teaspoon vanilla bean paste
¼ teaspoon freshly ground nutmeg
2 to 3 tablespoons water
Other Toppings (optional):
Unsweetened dried cranberries
Fresh rosemary leaves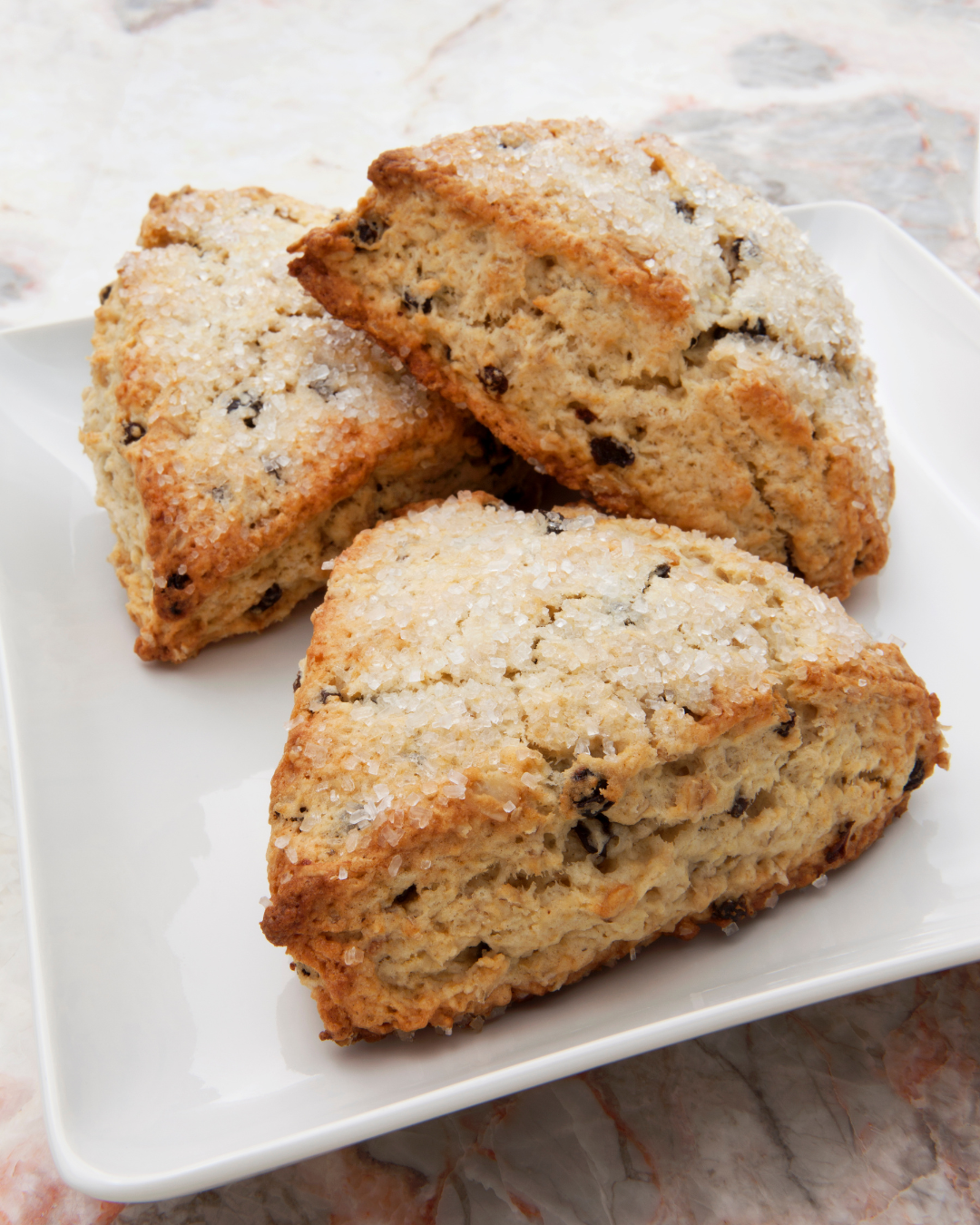 INSTRUCTIONS
1. Preheat oven to 450F; line a baking sheet with parchment paper or a silpat liner.
2. Whisk together the flour, sugar, baking powder, salt, nutmeg, dried cranberries, and rosemary in a large bowl.
3. Cut in the butter with a fork or using two butter knives until it looks like coarse meal. Whisk together the half and half and vanilla bean paste, and stir it into the flour mixture. (The dough should come together, but not be too wet.)
4. Shape the dough into a ball, then flatten it into a disk; wrap it in plastic wrap and chill 10 minutes in the freezer.
5. Turn the dough out onto a lightly floured surface. Roll or press the dough out to a circle about 7 to 8 inches in diameter and ¾ inch thick. Cut the circle of dough into 8 equal wedges.
6. Transfer the scones to the prepared baking sheet, lightly brush the tops with a little half and half (or milk), and bake until puffed and light golden brown on top and bottom, about 14 to 16 minutes. Cool completely.
7. Once cooled, whisk together all ingredients for the glaze, adding the water a little at a time until it reaches your desired consistency. Dip the tops of the scones into the glaze, letting it run down the sides; sprinkle a few dried cranberries and rosemary leaves on top, if desired. Place the scones onto a wire rack and let the glaze set completely before serving.