Recipe Title: Creamy Garlic Chicken Pasta
Total Prep Time: 10 minutes
Total Cook Time:  30 minutes
Servings: 2-4 servings
Level of Difficulty: 2
(Levels 1-5, with 5 being the most difficult)
Recipe by Brandyn Baker @blackdog_bbq
Ingredients:
1-2 lbs. chicken breasts, boneless

¼ C Garlic butter Pepper Herb Rub from The Spice House (Sub w/ equal parts salt & pepper if desired)

Olive oil as needed

½ packet Roasted Garlic, Basil & Parsley Banner Butter

4 garlic cloves, minced

4 TBS all-purpose flour

1 ¾ C half & half

1/3 C parmesan, grated

2 T parsley, chopped + as needed to garnish

1 lb. cooked spaghetti (per package instructions)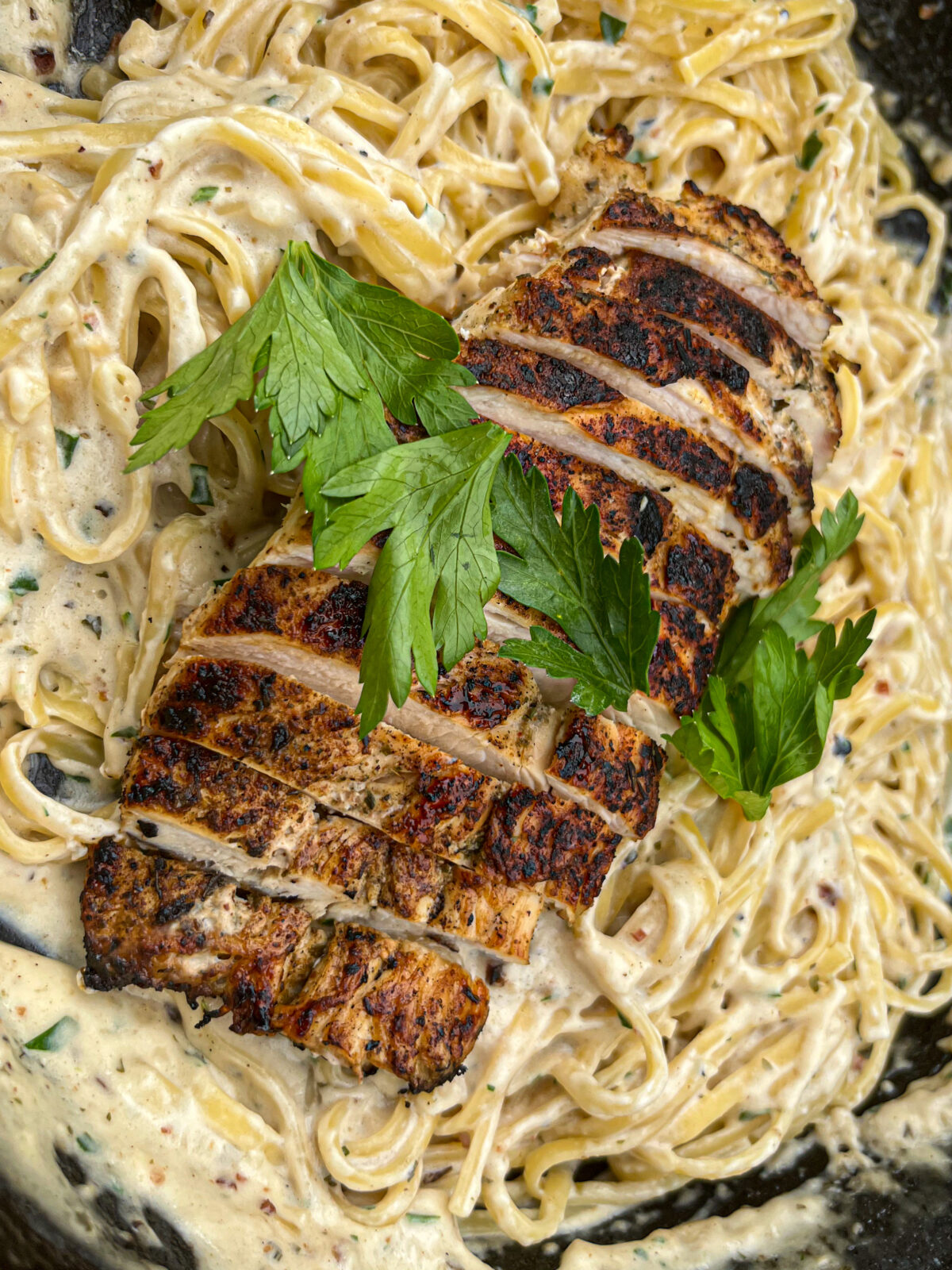 For the Chicken:
Preheat both griddle burners to sear mode. Meanwhile, trim the chicken breasts of any excess fat, discarding waste & packaging as needed. Next, lightly apply olive oil to the chicken breast as a binder. Season the chicken breast liberally with the rub listed above until the chicken is well coated. Repeat this process with the remaining chicken breasts.

Once the griddle has preheated, add the chicken and cook for 15-20 minutes, flipping halfway through (leave one side of the griddle open to allow room to cook the sauce simultaneously). Once the internal temperature registers 165 degrees, transfer the chicken to a plate and set it aside until ready to use. Turn off the burner.
For the Garlic Cream Sauce:
Place a large skillet on the open side of the griddle and add the butter. Once the skillet becomes hot, and the butter has melted, add garlic, cooking until fragrant. Next, add the flour and constantly stir until the mixture turns golden brown (continuing to stir will help prevent the flour from clumping). Add the half and half and simmer until spoon-thick. 

After 3-4 minutes, stir in the parmesan and parsley until the cheese has melted. Add in the cooked spaghetti & toss until well coated. Once this occurs, turn off the burners and set them aside. 
To Finish:
Allow the chicken to rest for 5-10 minutes. Using a sharp knife, slice the chicken into ¼ – ½ inch thick slices. 

Add the creamy garlic pasta to a plate with the carved chicken. Top with parsley, serve, & enjoy!