Today we're sharing a Blueberry Baked Oatmeal Recipe that @jenliveshealthy recently made and shared on Instagram. The recipe is adapted from @cookieandkate recipe and it is packed with wholesome ingredients and can be tweaked in many ways! Try different nuts or fruits, and definitely try with our Cinnamon, Cardamom & Ginger Butter!
The perfect easy breakfast dish for entertaining a large crew over the weekend!
INGREDIENTS:
•⅔ cup chopped pecans
• 2 cups old-fashioned oats
• 2 teaspoons ground cinnamon
•1 teaspoon baking powder
•¾ teaspoon fine-grain sea salt
•¼ teaspoon ground nutmeg
•1 ¾ cups milk of choice
•⅓ cup maple syrup or honey
•2 large eggs or flax eggs
•3 tablespoons melted Unsalted Banner Butter or try the Cinnamon, Cardamom & Ginger Butter
•2 teaspoons vanilla extract
•12 ounces or 1 pint fresh or frozen blueberries (or 2 ½ cups of your preferred berry/fruit, chopped into ½" pieces if necessary), divided
•2 teaspoons raw sugar (optional)
Optional toppings for serving: plain/vanilla yogurt or whipped cream, additional maple syrup or honey 🍯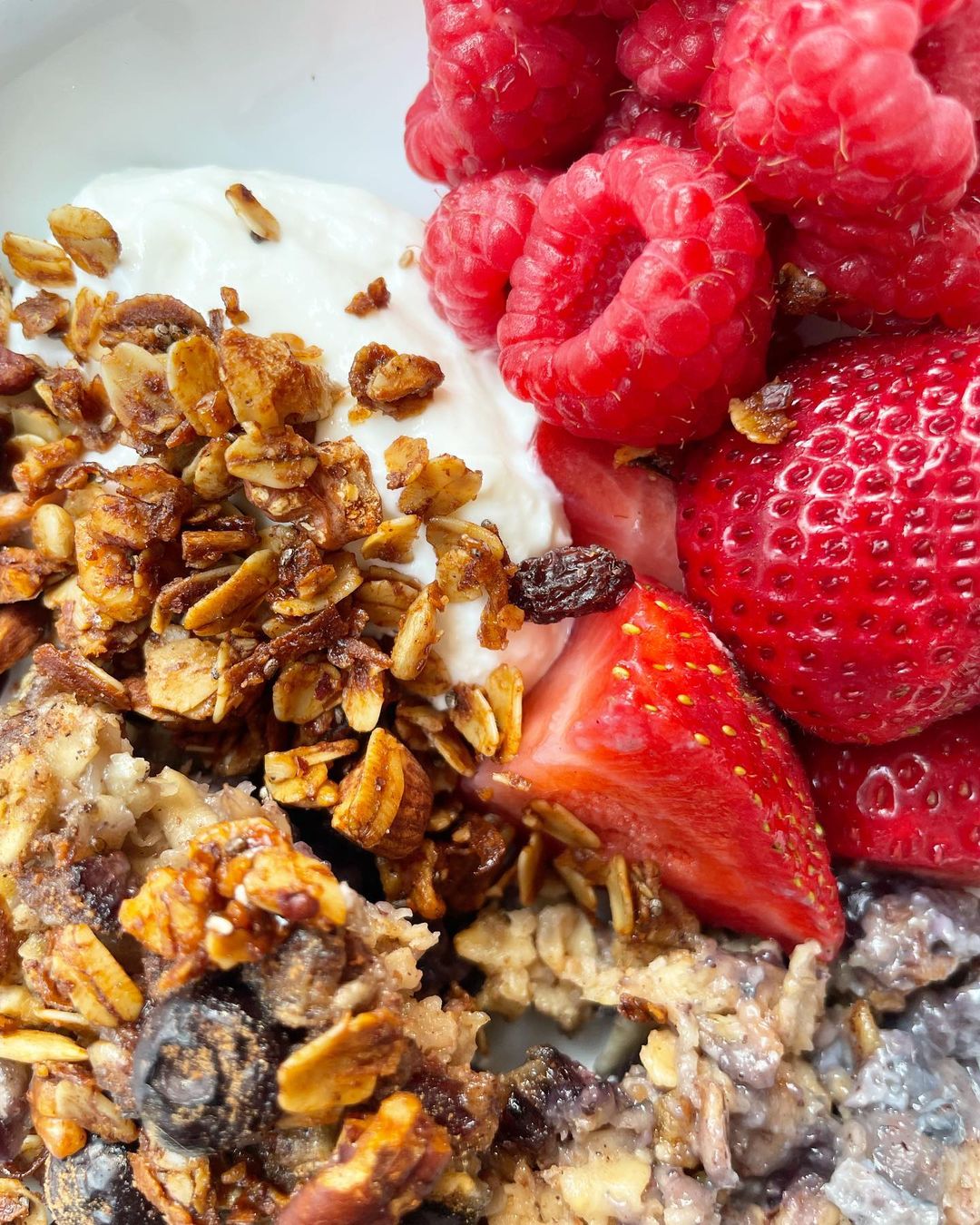 INSTRUCTIONS
Preheat the oven to 375 degrees. Grease a 9-inch square baking dish. Once the oven has finished preheating, pour the nuts onto a rimmed baking sheet. Toast for 4 to 5 minutes
In a medium mixing bowl, combine oats, toasted nuts, cinnamon, baking powder, salt, and nutmeg. Whisk to combine.
Mix the milk, honey, egg, half of the butter, and vanilla. Whisk until blended.
Reserve about ½ cup of the berries for topping the baked oatmeal, then arrange the remaining berries evenly over the bottom of the baking dish (no need to defrost frozen fruit first). Cover the fruit with the dry oat mixture, then drizzle the wet ingredients over the oats. Wiggle the baking dish to make sure the milk moves down through the oats, then gently pat down any dry oats resting on top.
Scatter the remaining berries across the top.
Bake 40 mins until the top is nice and golden. Drizzle the remaining melted butter on the top before serving.