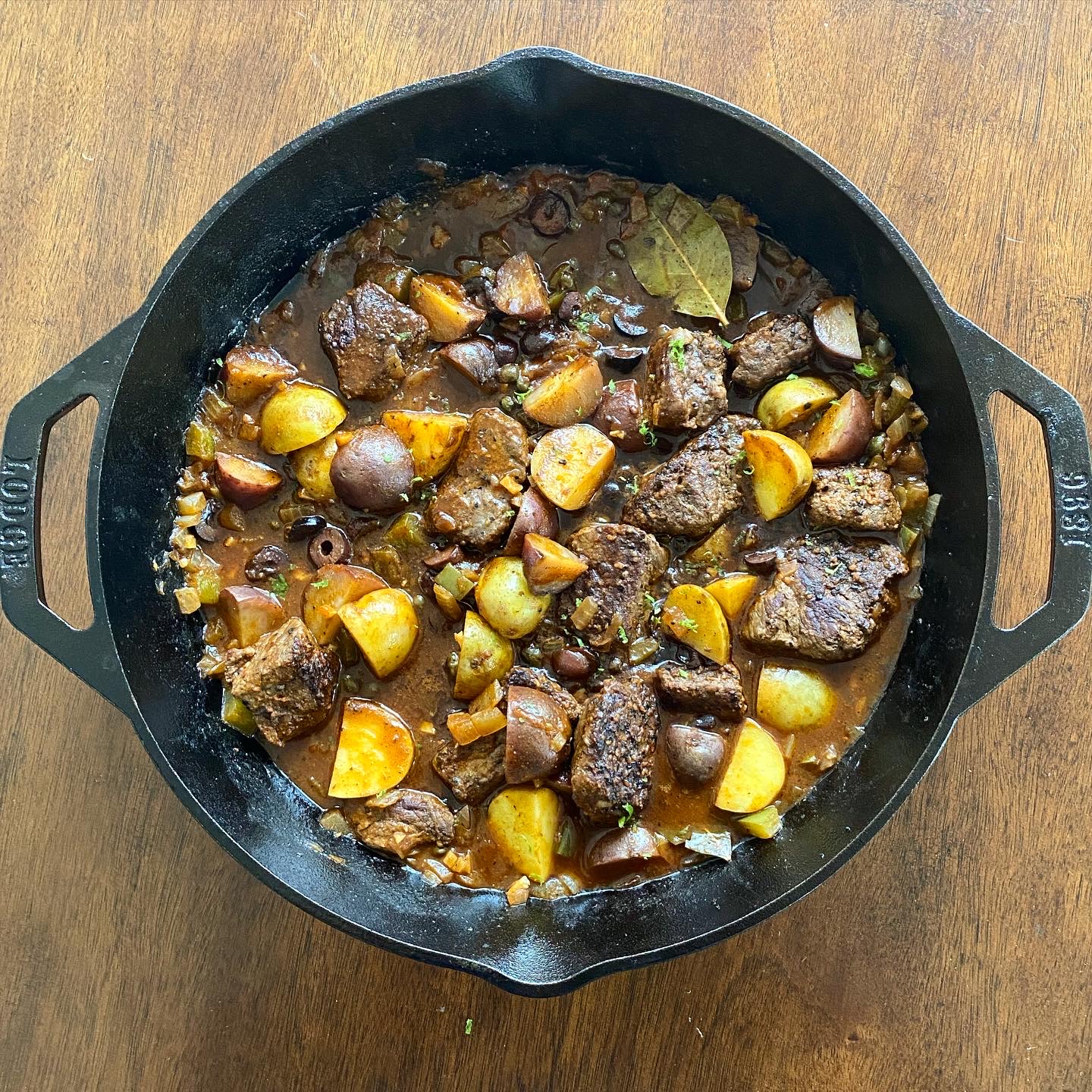 Brandyn from blackdog_bbq is bringing us a comforting pot of Carne Con Papas today! It's a traditional Cuban dish made with tender beef and flavorful potatoes that's usually served with rice. It looks delicious and he's utilizing our  Sea Salt Butter for this one, but we're pretty sure you couldn't go wrong with our Smoked Sea Salt either!
Ingredients:
1 lbs. Wagyu loin cubes from @double8cattle
@meatchurch Holy Cow rub
@bannerbutteratl sea salt butter
3 garlic cloves, minced
1/2 green pepper, diced
1/2 medium white onion, diced
1/2 T tomato paste
1/4 tsp cumin
1/4 tsp oregano
1/8 tsp Fresh Ground Pepper
1/4 cup White Wine
4 ounces Tomato Sauce
3/4 cups Water
2 Bay Leafs
1/2 lbs tie color potatoes, cubed
1 cup prepared rice
1/4 C olives, sliced
2 T capers
1/2 lime zested, for garnish
Instructions:
1. Season the beef with holy cow rub.
Heat 1/4 pack of banner butter in a skillet over medium heat. When the pan is hot, add the beef and sear both sides, ~5 minutes each. When seared, remove the beef from the skillet and set it aside.
2. Add the onions and peppers to the pan. Sauté for ~3 minutes over high heat until translucent.
3. Add the garlic, tomato paste, cumin, oregano, and pepper to the pan and cook for 1 minute, stirring almost constantly.
4. Add the white wine and stir while gently scraping any bits off the bottom. Continue cooking until most of the liquid has evaporated, about 2 minutes. Stir frequently.
5. Add the tomato sauce, water, and bay leaf to the pot and stir.
6. Carefully place the beef back in the skillet. When the sauce comes back to a simmer, lower the heat to medium-low and cover.
7. Cook the beef/veggie mixture for 15 minutes, stirring only occasionally. Keep the sauce at a simmer. If it's boiling too vigorously lower the heat a bit.
8. Uncover the pot and stir. Add the potatoes, capers, and olives. Raise the heat to medium-high and let the sauce come to a simmer. Then, lower the heat and cover the pan, cooking the mixture for an additional 25-30 minutes until the potatoes are for tender.
9. Once the potatoes are fork-tender, season to taste with salt and serve with prepared rice. Top with lime zest for garnish. Enjoy!