Recipe Title: Ropa Vieja
Total Prep Time: 20 minutes
Total Cook Time: 4-5 hours
Servings: 8
Level of Difficulty: 3
(Levels 1-5, with 5 being the most difficult)
Ropa Vieja 🇨🇺🥩🥘 from @blackdog_bbq recipe!
Ropa Vieja is a classic Cuban dish that is loaded with flavor. Ropa Vieja translated to "old clothes", and legend has it that a penniless man once tore and cooked his own clothes because he couldn't afford food. After the man prayed over it, it miraculously turned into this meaty stew.
Ingredients:
· 1 lb beef for stewing
· 1 lb beef cubes
· ¼ C Roasted Garlic, Basil & Parsley Banner Butter
· 1 large yellow onion, halved & sliced
· 1 bell pepper, sliced
· 6 garlic cloves, chopped
· 2 tsp ground cumin
· 1 tsp dried oregano
· ½ C dry white wine
· 16 oz. canned tomatoes, crushed
· 1 C beef broth
· 1 C olives (preferably a Spanish variety)
· ¼ C parsley
· 1 cup rice, dry
· 2 C water
· Salt & pepper, to taste
· Limes to garnish
**Note: 2 lbs of beef cubes or beef for stewing can be subbed if available instead of using both beef options
Tools:
· Chef's knife
· Prep bowls
· Cutting Board
· Spatula
· Measuring cups
· Stovetop
· Dutch oven with lid
· Thermometer
· Tongs
· Medium pot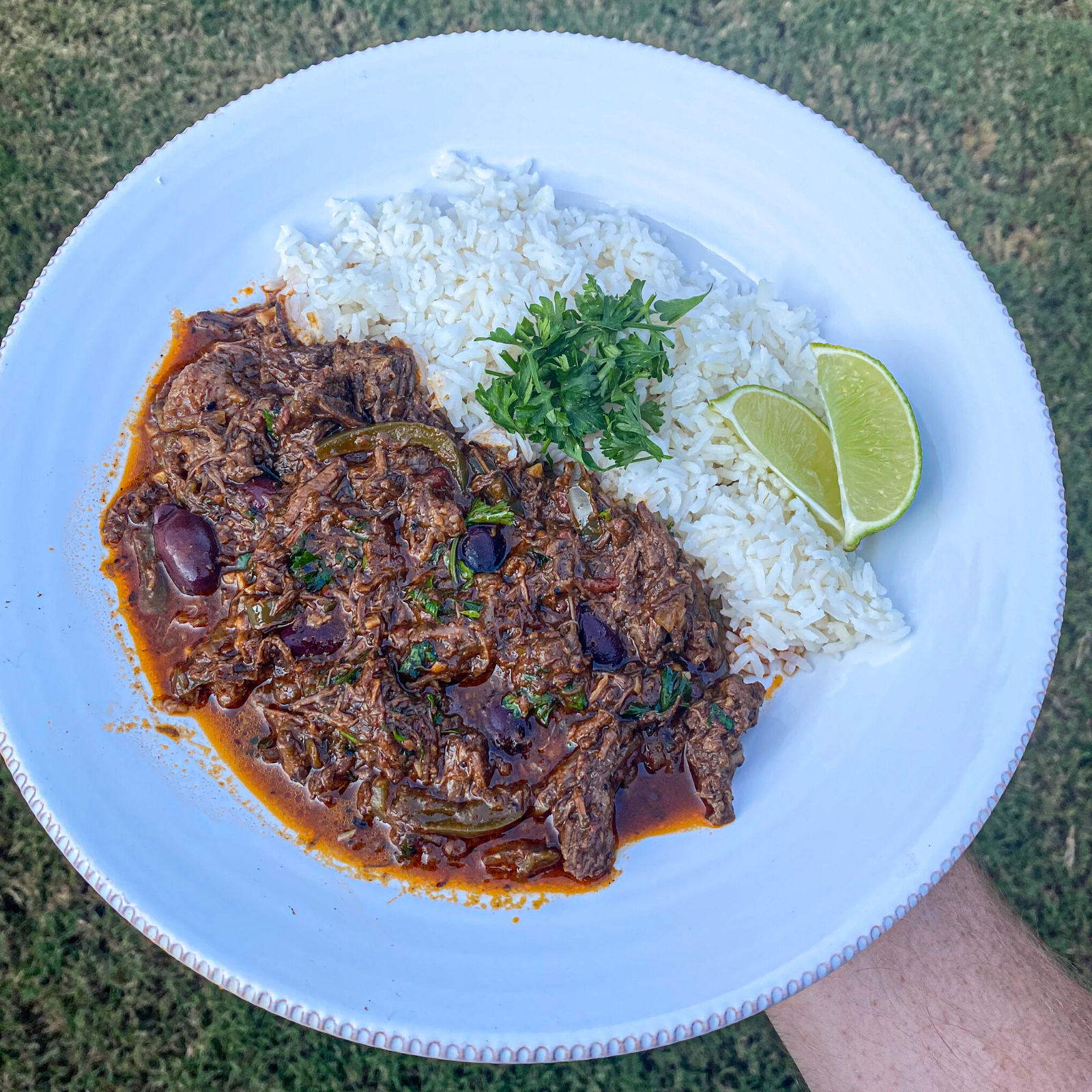 Procedure:
1. Season the beef with salt & pepper.
2. Place a Dutch oven over high heat and add the butter. Once the butter has melted, add the beef and cook until all sides are browned thoroughly. Transfer beef to a plate.
3. Once the beef has been removed, reduce the heat to medium and add the onions & peppers to the same Dutch oven. Cook for about 15-20 minutes, until caramelized. Add the garlic, cumin, paprika, and oregano. Cook for about one minute, until fragrant.
4. Next, add the wine & bring to a boil, scraping the bottom of the pan to deglaze.
5. Stir in the broth & tomatoes and bring to a simmer. Once simmering, return the beef to the pot. Continue simmering over low heat, cover, and cook for about 3 hours, until the beef is very tender (if using a thermometer, this typically occurs around 205-210 degrees).
6. Take the beef out of the pot, place on a cutting board, and shred. Return beef to the sauce.
7. Simmer, uncovered for about 30 minutes to thicken (if using olives, add in at this stage). While the stew is cooking, add rice and water to a separate pot over high heat. Once boiling, reduce heat to a simmer, cover, and cook for 25 minutes. Once finished, set aside.
8. Stir in the parsley, add salt and pepper to taste, and serve over rice. Squeeze a lime over the mixture if desired and enjoy!