Recipe Title: Braised Bottom Round Roast with Carrots & Potatoes
Total Prep Time: 30 minutes
Total Cook Time: 5 hours
Servings: 3
Level of Difficulty: 3
(Levels 1-5, with 5 being the most difficult)
Ingredients:
· 2 lbs. bottom round roast
· ¼ C Sea Salt flavor Banner Butter
· 2T minced garlic
· ½ large onion, sliced
· 2 medium carrots, chopped
· ½ C dry white win
· 28 oz. diced canned tomatoes
· ½ C beef stock
· Salt & pepper to taste
· ½ C all purpose flour
· ½ bag of mini fingerling potatoes
Tools:
· Boning knife
· Chef's knife
· Mixing bowl
· Medium-sized Dutch oven with a lid
· Tongs
· Spatula
· Thermometer
· Measuring cups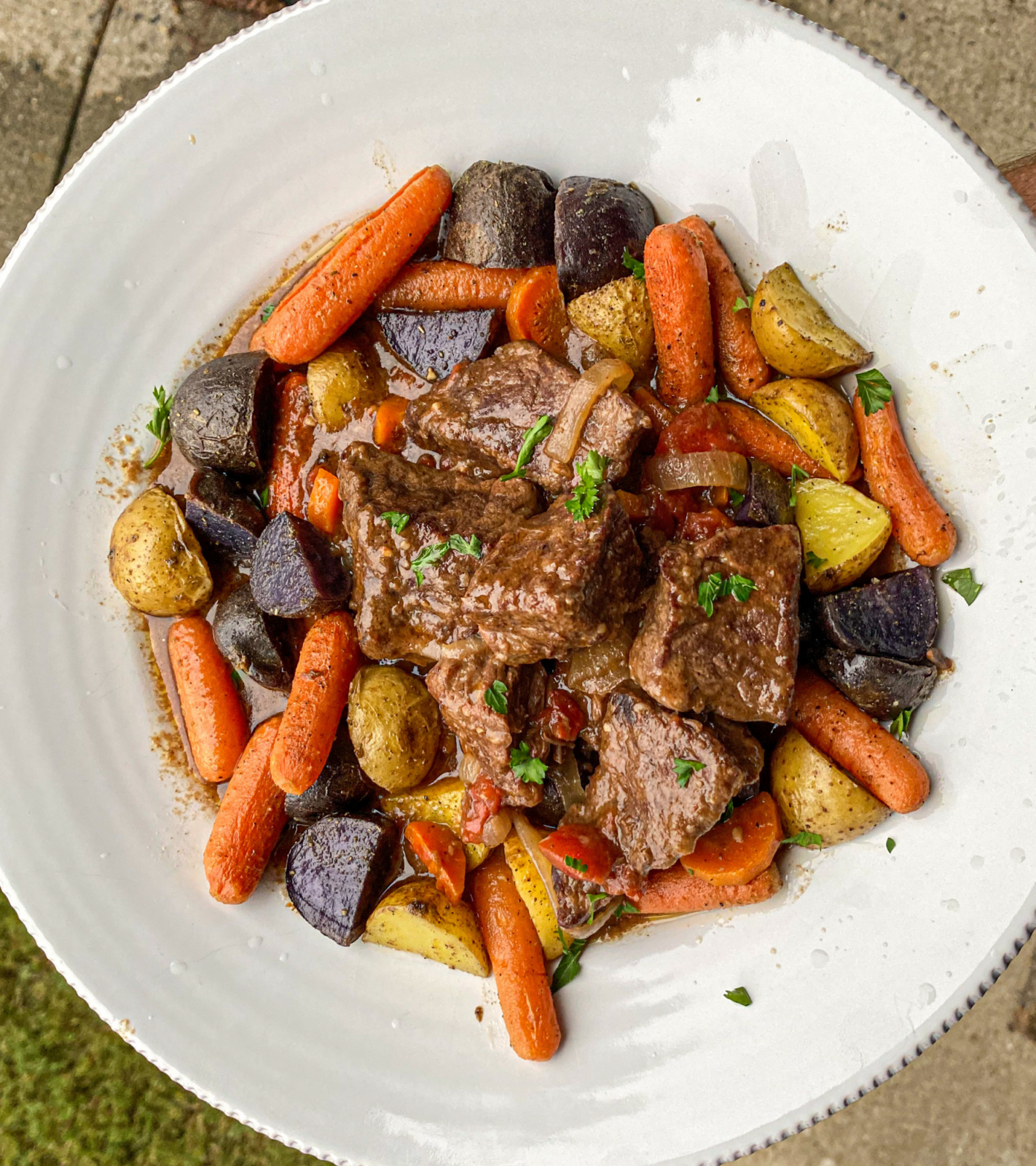 Procedure:
1. Trim excess fat off the roast. Then cut the roast in half horizontally (this makes cubing the roast easier). Next, cut the roast into 1 – 1 ½ inch cubes.
2. Add flour to a mixing bowl. Dredge roast cubes in the flour mixture, coating on all sides and set aside.
3. Melt butter in a large pan over medium-high heat. Once the pan is hot and the butter is melted, add beef in batches. Fry the beef cubes in the butter until browned on all sides. Continue the process until all beef has been brown and set aside on a plate.
4. Add the onions to the same skillet and cook until tender. Add in garlic & carrots and cook until fragrant (2-5 minutes).
5. Pour in the wine to deglaze the pan. Then, add beef broth, potatoes, and tomatoes. Finally, return the cubed beef to the pot, making sure all beef is submerged in the sauce. Cover & simmer on low for 3-4 hours, occasionally checking & stirring the meat to make sure it has not burned.
6. Once the internal temperature of the beef reaches ~203-208 degrees (when the beef feels like it is falling apart), remove the Dutch oven from the heat & turn off the burner.
7. Serve & enjoy!